Submitted by admin on July 27, 2009 - 4:21 pm
Knowledge is proud that she knows so much;
Wisdom is humble that she knows no more.
-William Cowper
We should never cease to educate ourselves. When we stop learning we stop growing. It has been years since I have been in a school setting, however I continue to learn and grow. Whether it's learning how to film, edit and blog, cook something new (which is a big deal for me) or learn any other new skill, I love the feeling that I gain from knowledge and the thirst that I have for more.
What have you learned lately? I'd love to know.
Submitted by admin on July 24, 2009 - 7:06 pm
Marty Stevens-Heebner, the creator of Rebagz™, got the idea for her handbag line during a trip to the Philippines. While searching for materials and a manufacturer for her handbag designs, she found a foundation that recycles vivid plastic juice packs and weaves them into all sorts of colorful things. Marty also discovered that some Philippine rice sacks had vibrant designs on them. "I don't care if they're sacks," she says. "Something that beautiful should not wind up in a dumpster. It deserves to be rescued and made into something gorgeous." Marty decided that the recycled juice pack weave and the rice sacks would be the perfect "fabric" for her handbags. Color and variety have always been a hallmark of her work, and she has often been inspired by things she discovers in her global travels. (She has visited every continent, including Antarctica. "Penguins may be cute," she says, "but they really, really stink.")

Watch the interview!
What do you think of the handbags?
Submitted by admin on July 23, 2009 - 1:00 pm
Today's giveaway is the Cinchy Tote from Rebagz™.
"Rebagz™ is made of recycled rice sacks and fruit juice packs – the kind you stick a straw in and slurp from. But after those jobs were done, these packs and sacks were just too colorful to throw away. So instead they're rescued and transformed into our whimsical bags, handmade especially for you, all under fair trade conditions. Now just wear, enjoy – and recycle!"
Comment below to enter to win!
Submitted by admin on July 22, 2009 - 12:00 pm
I just tried this yesterday but let me tell you, I can't wait to sink my teeth into this delicioso Frozen Raspberry Pie again! It has such a rich and creamy flavor and of course, I made it with Agave…don't forget that you can always substitute regular table sugars with better alternatives.
Click here for the recipe, enjoy!
Submitted by admin on July 21, 2009 - 1:30 pm
Here's a blast from the past!!! Irene Cara's, What a Feeling is definitely a timeless, inspirational and motivational classic. Other than the fact that it makes me dance every time I hear it, the line "take your passion, and make it happen," always seems to strike a chord in me. My current project is getting my TV show up and running. What's your passion and what are you doing to reach your goal? I'd love for you to share your stories to keep us all motivated as we are going through different journies to be the best we can be.
Submitted by admin on - 2:30 am
Your thoughts are the architects of your destiny.
– David O. McKay
Our thoughts are very powerful, good or bad. Begin this week with lots of positive thoughts and energy and give gratitude for al that you have. Doing that, I am sure that you will have a fantastic week.
Enjoy!
Ana!
Submitted by admin on July 17, 2009 - 5:00 pm
Don't have time for makeup? Follow these 4 quick summer beauty tips from Professional Makeup artist, Tara Dowburd-Luftman, and you will be fresh-faced and fabulous in no time! Click here to watch!
Submitted by admin on July 16, 2009 - 11:00 am
I just LOVE Thursdays. I don't know what it is about giving things away, but I love it! Today I am giving away a few itmes by E.L.F. (Eyes Lips Face) Cosmetics. (Sorry guys, I requested a male grooming kit and I never got it). 🙁 But ladies, you have hit it big. This week there will be three winners!!! Check out the cool E.L.F. products below, tell me which one you'd like to win and who knows? You just might win it.
#1 Nail Poish (Formaldehyde, Dibutyl Phthalate (DBP) & Toulene Free)
3 Shades of Pink
Perfect for the Summer
#2 Mini Makeup Collection
Create a any look that refelcts your personal style
This compact has it all (eyeshadows, blush, bronzer and lip gloss)
#3 Super Glossy Lip Shine (5 "Berry Yummy" Tubes)
Brilliant, long-lasting shine & never sticky, these lip glosses are a must have for the summer!
Remember to leave your comment below for your chance to win some E.L.F. cosmetics!!!
Tune in tomorrow to get Beauty Expert, Tara Dowburd-Luftman's 3 summer beauty tips!
Submitted by admin on July 15, 2009 - 6:00 pm
Fruit and Grain Salad
1 ¼ cups dry grains medley (try Trader Joe's Grains Medley, or any mixed grains
you like such as wild rice, Israeli Couscous, whole wheat orzo, rice-lentil combos,
etc)
1 large apple, diced
½ English cucumber (also called Hothouse, in the plastic wrapper), diced
4 scallions (aka green onions, spring onions), thinly sliced
1/3 cup dried cranberries
¼ cup toasted sliced almonds
Handful of fresh basil leaves, roughly chopped
Handful of fresh mint leaves, roughly chopped
¼ cup apple cider vinegar
Squeeze of lemon or orange juice
3 tbsp maple syrup
2 tbsp Dijon mustard
¼ cup Extra Virgin olive oil
Salt & pepper to taste
Cook grains according to package directions, making sure to include some salt in the
water for flavor. When cooked, spread grains out onto a dinner plate to cool to
room temperature.
In a large bowl, whisk together maple syrup, vinegar, olive oil, mustard, and lemon
juice with a dash of salt & pepper. Add apples, cucumbers, scallions, herbs, and
cranberries to the bowl and toss in the vinaigrette. When grains are cool, add them
to the bowl (de-clumping with your fingers if necessary), along with the toasted
almonds. Toss to coat. Serve room temperature or chilled.
Submitted by admin on July 14, 2009 - 4:00 pm
Be One of The First to Book Your Vacation With Me and
You'll Receive a FREE Workout DVD To Get You Ready For The Sun!!!
I'll be at the all-inclusive Viva Wyndham Maya Resort in Playa del Carmen, September 13th-20th.
Why should you come?
There will be 2 FREE classes with me EVERYDAY at 10:30am -11:30am and 5:30pm – 6:30pm
We'll have breakfast together on Monday September, 14 at 10 am
There are tons of cultural and leisure activities available for the entire family
It's all-inclusive!!! That means that you can eat and drink as much as you want
See you in Paradise!
Submitted by admin on July 13, 2009 - 2:00 pm
There is no beauty but the beauty of action.
– Proverb
I am in action. I am moving forward and I have all of you to thank for your continued support. I feel that my dream of my own lifestyle TV show is on the horizon. Please send me your positive thoughts and I will do all that I can to create a program that you will enjoy and want to tune in to.
Thank you,
Ana
Submitted by admin on July 10, 2009 - 6:30 pm
I was feeling so cluttered with my tiny closet overflowing with clothes that I NEVER wear. I called in Fashion & Life Stylist, Catherine Cassidy, to give me a closet makeover. Watch the mess turn spotless!
Submitted by admin on - 4:35 pm
Just thought you might find it interesting to know that, after almost 2 weeks sugarfree, this former frequent user of advil hasn't needed it at all! Well, actually, the first 3 days of the challenge I had a headache constantly — it's like I was addicted to the stuff! But now I can gladly say that I haven't had a headache since!!!
Now if I could just lay off the over use of exclamation points. 🙂
I've also noticed that I don't have the typical midday slump as much as I used to. Sure, I still feel a little groggy around 3pm – 4pm, but before going sugarfree I couldn't help but HAVE to nap. It was definately a big interruption in my day. Now I just keep going along.
I will admit — it was pretty difficult to keep it sugarfree over my fourth of july vacation. My family LOVES to eat out and, unfortunately, seems to always make a few stops at McDonalds. You know the ONLY sugar free thing they have is a side salad? The bigger salads are full of sugar in the chicken and the cheese :(. But, I brought some almonds and apples to add…. it really wasn't so bad, and in the long run I'm so glad I didn't break down. It's hard to know when you're at a restaurant what exactly is in your food, but I tried to choose the least sugary-sounding options.
To anyone debating upon going sugar free…. I recommend.
Submitted by admin on July 9, 2009 - 6:34 pm
Hey guys!
Check out these super cute Lola Bands! I'm giving one away today so please click here to see all the styles and leave a comment below of which one you'd like to win.
Submitted by admin on July 8, 2009 - 7:29 pm
Fiesta Chopped Salad
4 cups chopped Romaine lettuce
1 cup corn kernels (either fresh, frozen that you've cooked, or canned you've rinsed)
1 red bell pepper, chopped
1 cup chopped jicama (a large root vegetable)
1 cup black beans (drained and rinsed, if using canned)
1/3 cup crumbled Cotija cheese (mild Mexican cheese, similar to Feta)
½ cup fresh Cilantro, roughly chopped
1/3 cup Salsa Verde
Juice of ½ a lime
2 tbsp extra virgin olive oil
1-2 cooked boneless skinless chicken breasts, sliced (optional)
Lay romaine lettuce on a platter in a thin layer. Working across the platter, place
other vegetables, beans, and chicken in piles or strips so that you end up with a
beautiful array of colors over the lettuce. Sprinkle the Cotija cheese over the top.
In a small bowl or pitcher mix together the salsa, lime, and oil. Pour this mixture
over the salad and toss just before serving.
Note: you can easily make this salad vegetarian by replacing the chicken with
avocado or simply omitting the chicken.
Submitted by admin on - 3:43 am
My first hat/knitting in the round project. Looks like a hat. I'd say that's not too bad. Not too bad at all.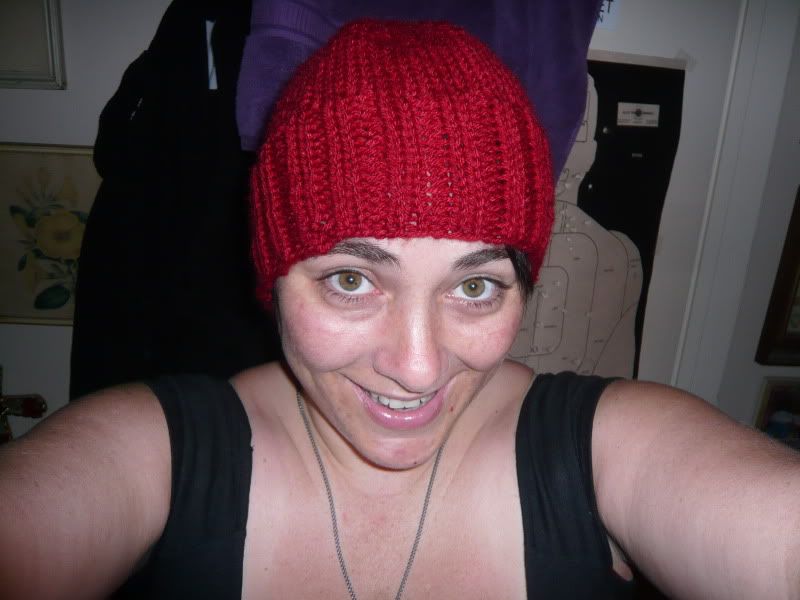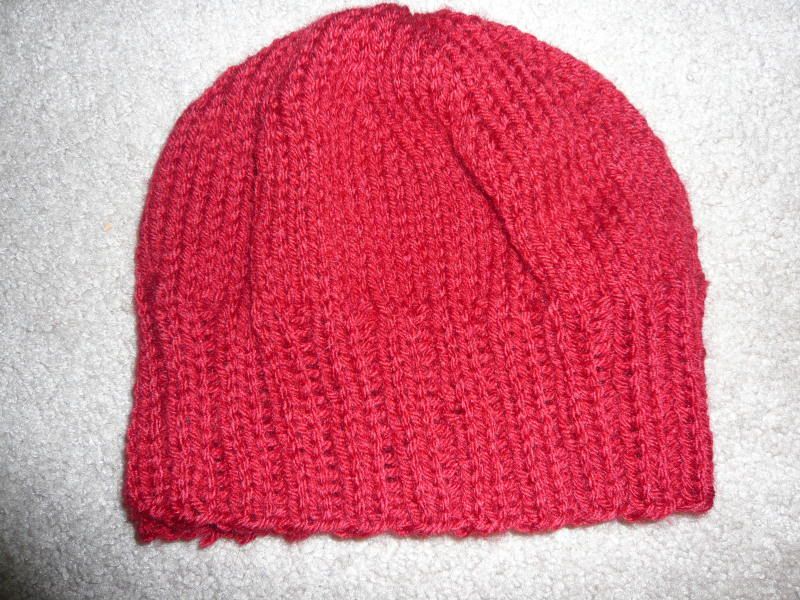 Submitted by admin on July 7, 2009 - 7:17 am
Hi Friends!
I hope that you are all doing and feeling great! I am very excited about working on my lifestyle TV show idea and need your help… Please take a couple of minutes to answer the following 3 questions. I'd greatly appreciate it!!!
1. What are 3 words to describe Ana?
2. How does she inspire you?
3. If Ana Caban had a T.V. show, would you watch it and why?
Thanks,
AC
Submitted by admin on July 6, 2009 - 10:30 am
You do not get to choose how you are going to die or when.
You can only decide how you are going to live. NOW.
–Joan Baez, American Folksinger
I couldn't have said it better, myself. This is our opportunity. What are we waiting for? No one else can live our life for us, so let's make the most of it! For the past month I have been working with certified Dream Coach®, Francine Allaire. With her guidance I am daring to dream bigger than ever! I am setting goals and going for them. I feel that I have the power to achieve whatever I put my mind to. Not only that, the people who can assist me and support me in my endeavors seem to be showing up at my doorstep. It's amazing! (And thank all of you who are. I like to call you my Dream Team).
Francine is helping me and many other women through her community, The Daring. To learn more about Dream Coaching® and daring to dream, bigger than ever please visit www.TheDaring.com.
Submitted by admin on July 3, 2009 - 3:00 pm
I met and interviewed the genius Mom, Adrienne Alitowski, creator of Blankyclip®. Watch the interview!
For more information about Blankyclip®, click here.
Submitted by admin on July 2, 2009 - 10:00 am
It's all about the kids! The Shaklee Company has a great selection of healthy, natural products and today I'm giving away the Shakleebaby™ Soothing Lotion. It has the following benefits:
* 99% natural
* 87% certified organic ingredients
* Pediatrician Tested
* Organic aloe, shea butter, sunflower seed oil, and coconut oil to replenish skin nutrients
* Organic lavendar, chamomile, rosemary and vanilla oils to calm and relax
* Sensitivity tested
* Hypoallergenic
* No parabens or SLS
* No artificial color or fragrance
* No 1,4-dioxane or formaldehyde
If you have kids, or know someone who does – comment below to win the Shakleebaby™ Soothing Lotion.
For more on Shaklee, click here.
« Newer Posts
—
Older Posts »