Submitted by admin on July 1, 2009 - 2:00 pm
Spice up your summer lunch with a nice, fresh pear & walnut salad. Click here for the recipe.
Submitted by admin on June 30, 2009 - 1:00 pm
Is there anyone in the world since the 70s that didn't recognize the name Michael Jackson? The answer is NO WAY! Michael Jackson was named the King of Pop and transcended genders, race, and generations all over the world. He has greatly impacted the music we listen to today and the timeless hits that we turn to that mark every part of our lives. We had to say fairwell to him on Friday, June 25, 2009. After 50 years of living, and 40 years of sharing his music with us that we all laughed, danced, cried, dedicated and sang along to. I pray for his family and fans who mourn his death, R.I.P. Michael Jackson. Life was more beautiful with you in it!
Submitted by admin on June 29, 2009 - 10:30 am
Kindness is always fashionable.
– Amelia E. Barr
Lately I have been feeling really fortunate, loved and blessed. This, in turn, has made me want to be even kinder to others, to share important stories, to help others, to do what I can. I have found that it doesn't matter whether the task big great or small. Whatever I do, out of true kindness, is appreciated and without even wanting anything in return I am always rewarded in some way.
So, this week I ask you to consider performing random acts of kindness. Do so selflessly and enjoy the way it makes you feel. Remember that kindness is always fashionable.
Submitted by admin on June 26, 2009 - 8:33 pm
I was able to get an exclusive interview with Tim VandeSteeg about his latest movie, My Run. I attended the Special Screening and it is on my top list of inspirational movies. It was great! Watch the interview below!
For more information about My Run, click here.
For more on Tim VandeSteeg, click here.
Submitted by admin on June 25, 2009 - 4:30 pm
MY RUN, the Terry Hitchcock Movie is an inspirational documentary about how he tragically lost his wife to breast cancer and struggled to raise three young children on his own. Terry Hitchcock seized on an idea of wanting to accomplish the impossible: run 75 consecutive marathons in 75 consecutive days to bring attention to the incredibly difficult lives of single-parent families. Click here for more information.
In honor of inspirational movies, I'm giving away a Fandango Gift Certificate so that you can go to any theatre near you and watch a motivational film that may make a difference in your life.
To enter to win, please add a comment below with your favorite inspirational movie.
Submitted by admin on June 24, 2009 - 5:00 pm

Need to whip up a quick and easy gourmet dish? Here's a recipe that takes 20 minutes and tastes like you were in the kitchen for hours! Click here.
Submitted by admin on June 23, 2009 - 4:00 pm
I'm a BIG fan of John Cruz and got the chance to see him perform last night at Trader Vic's in LA. John is a Grammy Award winning Hawaiian musician with a calm and pleasant island-sound. See the interview and performance below.
For John's latest CD, One of These Days, or other products (flying shirts and 80's sweat bands), click here.
Submitted by admin on June 22, 2009 - 10:30 am
Doing nothing is very hard to do…you never know when you're finished.
— Leslie Nielsen
It's Monday and back to work. And I have to admit that I tried to do nothing this weekend, but feel as though I was actually busier than ever. Go figure! I hope that everyone had a great weekend, especially you fathers out there. Happy Father's Day!
Here's to a fantastic and productive week!
Ana
Submitted by admin on June 20, 2009 - 1:00 am
Want a sweeter taste of life? Peter Crone, "the happiness Guru" has the answers you need to achieve your dreams. See my interview with him below.
Lean more about Peter Crone by visiting, BeAlive.com
Here's a little added bonus…
Meeting Peter I learned that he likes to do Pilates and LOVES to play golf (he even has a golf course on his front lawn!). So in honor of Peter, I've included some "Golf and Pilates" information on how Pilates can imrove Golfing techniques.
According to the latest research, the 25 million golfers in the US have the following characteristics:
• 60% have difficulties physically making the proper body movement that will allow a mechanically correct swing
• The remaining 40% of this group that already possess the physical ability, would be interested in gaining more yards, more control and more endurance
Pilates can help you hit the ball consistently farther and straighter with reduced risk of injury and back pain. Pilates programs can be tailored to target the biomechanics of the golf swing, emphasizing golf-specific exercises in the Pilates technique.
Golfers can take the Pilates techniques out onto the course, implementing them in all aspects of the game from teeing off to walking! Combining the six fundamental principles of Pilates with natural movements enhance ease of motion through the balancing of strength, flexibility and increasing endurance.
Submitted by admin on June 18, 2009 - 4:30 pm
It's Tentación Thursday, and I have a great product for you!
The Green Garmento™ is the ultimate 3-in-1 reusable drycleaning bag.
Now you can finally say no to single-use plastic drycleaning bags. The Green Garmento is an eco-friendly 3-in-1 reusable garment bag that can help you green your dry-cleaning routine. At home it serves as a hanging hamper, on your trip to the drycleaner, it functions as a duffel bag, and at pick-up, your drycleaned clothes will be hanging and protected inside your Green Garmento for the trip home.
The simple step of switching to The Green Garmento will help to reduce the estimated 300 million pounds of single-use drycleaning bags that continue annually to clog our landfills and kill our marine and wildlife.
The Green Garmento is made from breathable, water-resistant material, making it an eco-friendly, stylish, practical, and affordable alternative to single-use plastic drycleaning bags.
Leave your comments below to enter to win, (THE WINNER WILL RECEIVE 2 GREEN GARMENTOS, one for your home, and one for the dry cleaner).
"Be Fantastic…Use Less Plastic." Switch to The Green Garmento.™ thegreengarmento.com
Submitted by admin on - 4:00 am
I ran across these the other day at my local natural food market and I tried the cherry pie, it was delicious! As you all know by now, I LOVE desserts but am off sugar, so these really satisfied my sweet cravings.
They are:
*Natural Baked Goods
*No Sugar Added
*No Preservatives
*Naturally Sweetened
*Cane Sugar Free
For more about Fabe's and where you can find them, click here.
Submitted by admin on June 16, 2009 - 6:00 pm
Hi friends,
I'd like to tell you about one of our fellow La Buena Life members, the beautiful and multitalented, Vanessa Diaz. I discovered her after she became a member and began to follow her because of her innovative approach to raising green awareness. She is the founder of Moxie Industries, an animal-friendly, eco-conscious company that produces and distributes fashion, music and art. She explains, "I love the beauty in creative expression. Fashion, music and art are three forms in which I express myself and am touched by others doing so." Vanessa is also currently working on her album (in both English and Spanish) and furthering the goals her company, "we're planning to build Moxie Industries into an international brand promoting environmental awareness and entertainment…we all have the freedom of choice to do our part in loving our world, and if you listen to your heart you will know what to do. I listened: here I am."
I posted her song, Home, on the main page so make sure to check it out (it's on the left sidebar).
To learn more and shop with Moxie Industries, click here.
Submitted by admin on June 15, 2009 - 10:30 am
A real friend is one who walks in when the rest of the world walks out.
– Walter Winchell
Last week, in my newsletter, I talked about spring cleaning and how that can pertain to your relationships, as well as your home. Basically, removing any type of clutter from your life, moves your "chi" (energy) creating room in your life for more of whatever it is you desire. I agree with the quote, above. And I ask you to assess who your real friends are, acknowledge them, give them gratitude, and assess which relationships may no longer serve you.
Make room for more positive things in your life!
Have a great week!
Ana
Submitted by admin on June 14, 2009 - 11:37 pm
Blush – Topless Undershirt This week I am featuring the Blush Topless Undershirt. It may look like a little skirt, but it's actually a very novel accessory. Ever have a shirt that you love, but that has shrunk in the wash, so it's just not long enough? Are you pregnant and finding that your non-maternity clothes are so much hipper than your maternity clothes, but your tops are no longer covering your baby bump? You need the Topless Undershirt! The Topless Undershirt can brighten up any old outfit, with a splash of color or a fun pattern. It can disguise your problem areas, or cover your belly and back, while nursing. It has so many uses.
To learn more about the Blush Topless Undershirt Click Here. And for your chance to win your own Topless Undershirt leave a comment below.

Submitted by admin on June 13, 2009 - 4:31 am
The more I practice knitting the more I am starting to learn that I can come up with m own patterns and creations as I did with this scarf. I made a loop at the end to draw the scarf through. That way it won't come loose and slide off your shoulder. It looks great hanging down the center as well as off to the side, hanging from your shoulder.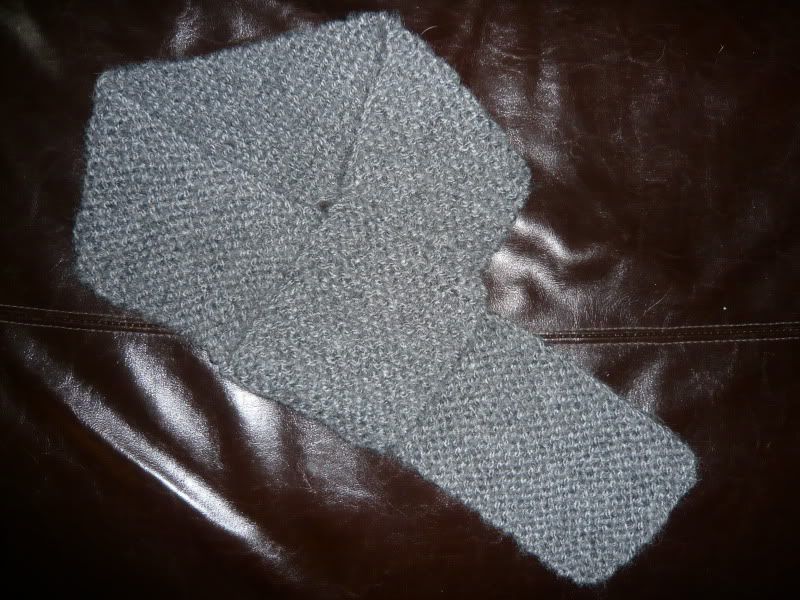 Submitted by admin on June 12, 2009 - 9:22 pm
I stumbled upon this program as I was searching the net and wanted to share it with you. For those of you who have kids that are looking into being musicians or already are, this is an amazing program to apply to:
"Children's Music Workshop is an Emmy award winning music education company which specializes in a variety of products and services including custom designed band and orchestra method books, school site music instruction, instrument sales and rentals, music education advocacy and more.
Children's Music Workshop currently coordinates instrumental music programs at more than two dozen public and private schools in the greater Los Angeles area", (read more)
Submitted by admin on June 10, 2009 - 10:00 am
This is a great lunch meal. I had it a few days ago and the brown rice is high in fibers so it kept me full throughout the day.
Ingredients
* 2 tablespoons miso (soybean paste)
* 1 1/2 tablespoons minced peeled fresh ginger
* 2 garlic cloves, minced
* 4 (4-ounce) skinned, boned chicken breast halves
* Cooking spray
* 5 large egg whites, lightly beaten
* 1 cup finely chopped onion
* 1 cup thinly sliced carrot
* 1 tablespoon fish sauce
* 2 1/2 cups cooked brown rice
* 1 cup diced shiitake mushroom caps (about 3 ounces)
* 2 tablespoons chopped fresh parsley
* 2 tablespoons chopped green onions
* 1 tablespoon low-sodium soy sauce
* 1 1/2 cups chopped spinach
Preparation: click here
Submitted by admin on June 9, 2009 - 10:30 am
Ok, ok, I know. I was just feeling a little 80's today. I don't know what it is about 80's music, but it transports me back to a simpler time in my life, a time full of spiky Sun-In bleached hair, rubber bracelets, jellies (those are shoes, (in case you are too young to know), skinny striped pants and more. Today I woke up in a retro mood.
Enjoy Keep Feeling Fascination on the LBL music player (on the main page)!
Submitted by admin on June 8, 2009 - 7:00 am
The greatest wealth is health.
– Virgil
As you all know, I have been off of refined sugar for over a month now (through my Sugar-Free Challenge). What started as a simple test to see if I could trim down a bit and fit into my old (favorite) jeans has turned into a real examination of my eating habits and my overall health. (Our health is so important. And oftentimes we don't even think about it until it becomes a concern, until we are ill). In doing my Sugar-Free Challenge I have become very aware of:
1). just how much sugar is in everything we buy
2). just how much I liked refined sugar
3). just how badly it would make me feel
Now I can clearly see how refined sugar affected me. Often after eating sugar my temperature would suddenly rise. I would actually feel hot. Also, when I ate refined sugar I would have an instant burst of energy, and then 45 minutes later i would crash and burn. and if I ate a dessert in the evening, I would have a hard time getting up the following day (somewhat like a "sugar hangover", I suppose). Not to mention that my skin seemed to suffer if I ate to much refined sugar.
Now that I have cleared my palate of the taste of sweets, I no longer crave them. Of course, if I do, in fact, want a sweet I make sure that it's fresh fruit or a snack made with unrefined sugar, such as honey, agave nectar, evaporated cane juice, etc. (And trust me, there are sweets available out there that are yummy and are made with the aforementioned sweeteners) .I am feeling so much better not eating refined sugar that I don't really worry about "falling off the wagon". I now have my health, my greatest wealth.
Submitted by admin on June 5, 2009 - 5:00 pm
Last week I did a giveaway with Khuraira's products: lipstick and lip gloss.
While researching the product I discovered that the founder of the company, Khuraira, has a fascinating life story.
She lost her mother and was orphaned at birth in a small town in Nigeria. She was later found and rescued by her aunt and sent to a local school. "From the proceeds of cow milk and yogurt she peddled door to door in a calabash, she managed to raise Khuraira and to instill in her genuine human values of honesty, humility and selflessness." She established KHURAIRA ORPHANS FUND, which benefits from a percentage of the proceeds from the sales of her products, read the full story
I like sharing these stories with you all because I truly believe that everything is possible as long as you know it is and act upon it everyday of your life. Life is a precious and short journey, and knowing that we made a difference, inspired one extra person, or simply shared a valuable piece of information to someone who needed it, is fulfilling in itself.
I hope you all have a good Friday, and wonderful weekend!
« Newer Posts
—
Older Posts »