Submitted by admin on June 5, 2009 - 3:00 am


Find more videos like this on La Buena Life
These ECOBAGS are so cool. They are small enough to keep anywhere. (There's no excuse for not BYOB). I love that they are 100% certified organic, come in a couple of styles and an array of colors. Since they are so airy they're a great place to put your stinky workout clothes, too. The coolest things about them is that they can hold 40 (Yes, FORTY) pounds each! THAT'S AMAZING!!!
Comment below to win & Click here for more on ECOBAGS. Enter promo code "EBS09" at checkout and receive 15% off your web order!
Thanks!
Submitted by admin on June 3, 2009 - 10:30 am
Man do I love me some Chocolate Fondue! Here's a sinless recipe you can make in less than 10 minutes. I found it on About.com and made it this weekend. It was delicious!!!
Ingredients:
* 2/3 cup dry unsweetened Dutch cocoa powder
* 1/4 teaspoon ground cinnamon
* 1/4 teaspoon kosher salt
* 1 cup milk
* 1/2 teaspoon vanilla extract
* 1/2 cup agave nectar
Preparation:
Place cocoa powder, cinnamon, salt, and milk in a blender. Pulse until combined. Pour mixture into a heavy saucepan and bring to a boil. Lower heat and simmer for 5 minutes, stirring often, until thickened. Remove from heat and let cool for 5 minutes, stirring occasionally. Whisk in sugar substitute (agave nectar) and vanilla, stirring until dissolved and smooth.
Pour into a fondue pot to keep warm and serve with fruit slices as dippers.
Yield: 8 servings (1/4 cup each)
Submitted by admin on June 2, 2009 - 7:27 pm


Original Video – More videos at TinyPic
Submitted by admin on June 1, 2009 - 3:26 pm
A day without laughter is a day wasted.
– Charlie Chaplin
The other night I was out with a bunch of moms and one of them was mentioned that her daughter was at her first sleepover. I was immediately reminded of being 5 years old and sleeping over at by best friend, Anila's, house. Anila lived right around the corner from me. In fact, I could see her house from mine, (still can when I am visiting my parents). We were in kindergarten and we were inseparable. I don't know what we talked about but we just giggled and giggled. I distinctly remember sleeping over at her house, in the middle of summer, when that Massachusetts humidity just hung in the air. (They must have not had air conditioning because all I remember was lying in bed, trying to fall asleep, giggling and sweating). Anila's mother would peek her head in and tell us to settle down and go to sleep. Each time we would say "OK. We are going to sleep" and, inevitably, the giggling would start up again. The funniest thing is that, to this day, when I am trying to fall asleep anywhere really hot and sticky I still remember those days and what my mother would tell me about how to stay cool. She would say "Lie very, very still. Don't move a muscle, not even a finger, and you will stay cool". Anila and I would lie like mummies trying to stay cool, and each time the giggling would ensue (because the whole thing seemed so silly). Laughter is awesome! These memories still make me smile. And I know, for a fact, that Anila still giggles reminiscing about our silly times together at age 5.
Submitted by admin on May 29, 2009 - 10:00 am
From friends to the news…don't you feel like everyone is talking about Twitter?
Being the internet savvy gal that I am, my husband's always asking me "how did you figure that out?"
Well… the answer is Bill Crosby. Not only is he an internet and media genious, but he's also helping people make thousands of dollars.
I would love to explain further, but it's best if you see it yourself. Click here.
Submitted by admin on May 28, 2009 - 8:00 pm
This week's giveaway are two products to help you look flawless. They are Khuraira Lady Obama Lipstick & Luscious Lips Lip Gloss in Femme Fatale. Join celebrity clients Mandy Moore, Paula Abdul, Cher and more, as believers in Khuraira's products. Nigerian born Khuraira founded her makeup line & original New Jersey boutique to teach every woman to use every ounce of their makeup properly. Her makeup line, especially her anti-aging makeup enriched with peptides, aloe vera and antioxidants (makeup as skin care) are possibly some of the most advanced in the beauty industry. They have been carefully studied for many years to fill a need in customers that most leading makeup brands have failed to.
The Special Edition Lady Obama Lipstick is the perfect color for all women. It is great for any lifestyle. Sure to unleash the first lady in you. PLUS 20% of all proceeds to benefit the Breast Cancer Network of Strength.
Luscious Lips in Femme fatale creates plump, sexy, and colorful lips. Helps to eliminate the appearance of dryness. Can be worn alone or over lip liner or lipstick.
Click Here to learn more about, or purchase Khuraira products. Remember that 1 (one) lucky LBL member will win the Khuraira Lady Obama Lipstick & Femme Fatale Luscious Lips Lip Gloss. Enter your comment below, for your chance to win.
Submitted by admin on May 27, 2009 - 2:00 pm
We are all getting ready for our summer bods so I found an appetizer/snack that's easy to prepare, tasty and perfect for those beach body diets. This non-starchy veggie dish will help you on your quest as it's high-in-fiber and filled with nutrients. If you don't like any of the veggies, you can also use asparagus, peppers, broccoli, leafy greens, spaghetti squash, mushrooms, and okra.
Calories: 83
Ingredients:
* 2 red onions, peeled (about 1 pound)
* 4 teaspoons olive oil, divided
* 1/4 teaspoon salt
* 1/4 teaspoon black pepper
* 2 sprigs fresh thyme
* 1 tablespoon chopped fresh dill
* 3 tablespoons Champagne vinegar or white wine vinegar
* 1 tablespoon stone-ground mustard
* 2 pounds green beans, trimmed, steamed, and chilled
Preparation time: 30mins
For instructions, click here.
Submitted by admin on May 26, 2009 - 10:30 am
ANYTHING IS POSSIBLE! This weekend I watched a movie about a remarkable man, Philipe Petit. It was no wonder that Man On Wire won Best Documentary feature this year. Man on Wire is a look at tightrope walker Philippe Petit's daring, but illegal, high-wire routine performed between New York City's World Trade Center's twin towers in 1974, what some consider, "the artistic crime of the century." The New York Times called it "Entralling", The Wall street Journal "Magnificent". The feat seemed impossible, but yet Petit did it! I particularly enjoyed Man on Wire because I recognized the control and grace with which Petit walked the wire. It reminded me of the control and strength needed to do Pilates.
If you want to be inspired to achieve ANYTHING, I highly recommend that you watch this film.
Submitted by admin on May 24, 2009 - 10:30 am
Joy is the feeling of grinning inside.
– Melba Colgrove
Joy is finding your passion, creating the life that you've always dreamed of and living it on your own terms. I feel very fortunate to be living the life of my dreams, a life full of creativity, friends, family & service to others-a life of purpose. I hope that each and everyone of you is, also, iiving the life of your dreams.
Last Friday I begin the Dream Coach® process with coach, Francine Allaire. Our first session mostly involved covering how the Dream Coach® process works and how future sessions would go, but had already gotten me excited about the Dream Coach® process. I decided to work with Francine, creator of The Daring (a Global Community for Women Who DARE to Dream Big, Take Control of Your Finances & Life and Soar to New Levels of Joy & Success) because although I enjoy what I do there is so much more that I would like to achieve and I believe that working with a coach will help me find clarity, accountability and perhaps a little guidance. As I mentioned, my first session was yesterday, and I already have homework. It's fun for me to be involved in a program like this, that really has me taking stock of all that I have and all that I dream to have. For me, the exercises that I must do, in between Francine and my sessions, seem like fun. They will force me to be very creative and dream even bigger than I already am. I look forward to sharing my experiences with Dream Coaching® along the way.
For anyone of you that is interested in living YOUR LIFE with even MORE PURPOSE, living YOUR LIFE on YOUR TERMS I highly recommend that you visit Francine's community, The Daring. Her community and programs will inspire you to dream and live your life to the fullest!!! 🙂 To visit The Daring please Click Here.

Submitted by admin on May 22, 2009 - 2:00 pm
I kept seeing a nice pair of red heels in a glass box around local shops in my neighborhood. At first glance I was checking out the shoes, until I saw the flyer posted next to it that read "Can You Walk a Mile in Her Shoes?" I found this to be such an eye catching statement. These few words got me to research it online and sure enough – I found that it was also an eye catching organization. Men around the world walk in heels to raise money and awareness to sexualized violence victims. Walk a Mile in Her Shoes is the "International Men's March to Stop Rape, Sexual Assault and Gender Violence. The Men's March started out small and has grown each year since, with larger crowds attending each March and Marches held in multiple locations benefiting multiple rape crisis centers."
To find out more, click here.
Submitted by admin on May 21, 2009 - 10:30 am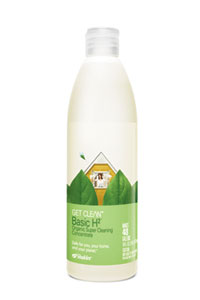 LBL member Linda Meccouri has donated this weeks Tentación Thursday giveaway. It's the Shaklee Basic H2™ Organic Super Cleaning Concentrate. As most of you know, I sample all of the giveaway products before I recommend them and give one away each week. For the past 3 weeks I have been using Shaklee (and only Shaklee) cleaning products, in order to test their effectiveness. I have used products to wash clothes, dishes, clean countertops, mirrors, floors and more. The result is that the Shaklee Organic products that I have tried are AMAZING! For the most part they are highly concentrated, so just a drop or two often does the trick. The first time I ran the dish washer using my Shaklee Get Clean™ Dish Wash concentrate my kitchen looked like a scene out of a Brady Bunch episode (complete with suds oozing out of the dishwasher). The good news is that since Shaklee products are highly concentrated you will only need to use a little each time, and you will find that the bottle lasts for far longer than your typical cleaning product.
This week's giveaway, Basic H2™ Organic Super Cleaning Concentrate– 16-ounce bottle, has an incredible powerful formula. Basic H2, when used as directed, decimates grease, grime, and dirt 1,000 different ways. Superconcentrated and earth friendly it can be used indoors or out on any washable surface. Just two ounces of Basic H2 provides the same cleaning power of 728 bottles of the 26 ounce size of Windex® original formula.** Oh, did I fail to mention that it's one of Oprah's Favorite Things?
To purchase your own bottle of Shaklee Basic H2™ Organic Super Cleaning Concentrate, or learn more about Shaklee products Click Here. As always, enter a comment, below, and you may be the ONE (1) lucky LBL member to win their own bottle of Shaklee Basic H2™ Organic Super Cleaning Concentrate. ¡Buena suerte!
Submitted by admin on May 20, 2009 - 3:21 pm
Gazpacho is often referred to as the "liquid salad." It is a simple, healthy and delicious soup that is served cold and perfect for hot summer days. It's an adaptation of the classic Spanish cold tomato soup and is made with the best of the season's vegetables.
Here are the Ingredients:
* 21 oz. of tomato
* 2 cloves of garlic
* 2 onions
* 2 red and green peppers
* 1 cucumber (optional)
* 7 tablespoons of oil
* 2 tablespoons of vinegar
* 1 1/2 tablespoon of water
* Cumin (optional)
Preparation Time is 30min. For instructions see, Spain Recipes
Submitted by admin on May 19, 2009 - 3:02 pm
Today I want to feature my brother, John Cabán's, band-Brother Hijinx. Brother HijinX has been performing live shows throughout the Northeast and the Caribbean engaging music lovers in their heady blend of psychedelic rock, funk, drum & bass, blues and dub, laced with inventive samples and atmospheric sonic dissonance to create their distinctive "Atmo-Dub-Funk"© sound.
Brother HijinX strikes the right chord every time and keeps crowds grooving and dancing in the aisles. The members have individually played, toured and/or recorded with such renowned artists as Art Neville, the late Bo Diddley, Richard Bona, Kenny Kirkland, Alana Davis, Me'Shell NdegeOcello, Govt. Mule, The Black Crowes, John Scofield, Brian Jackson, The Jungle Brothers, Michael Gregory, Richie Havens, Dana Fuchs, Jen Chapin, John Cruz, Dispatch and Michael Franti & Spearhead.
Additionally, band members have shared the stage with acts including Paul McCartney, Black Eyed Peas, Santana, Wu Tang Clan, Ben Harper, Taj Mahal, Marcus Miller, Kenny Garrett and Buddy Guy.
Seizing the opportunity to ride their funky wave of groovin' vibes and good fortune Brother HijinX are splitting their time between touring and the recording studio.
Click here to go to the LBL Music Player (on the Main Page) and listen to my favorite track Not So Hidden Charms.
To purchase Brother Hijinx music head over to CD Baby or iTunes.
Submitted by admin on May 18, 2009 - 2:51 pm
Children are the reward of life.
– Congolese Proverb
Today I want to honor children. Last night I spent the evening at the, much-awaited, East L.A.Classic Theatre (ECT) benefit, which raised money for ECT's theatre and language programs in many L.A. publics schools. The event was a huge success with 800-900 people in attendance (including many celebrities). Several of my friends joined me in supporting this worthy cause. But what was most memorable about the evening were the children. A group of 30 children from Stevenson Middle School (who participate in ECT's programs ) came out, in front of the stage, and introduced themselves. Two of the students stood up on stage and spoke about what they enjoyed about ECT and how it has positively impacted their lives. (Many of these children speak English as a second language and were very shy children, before entering ECT's program). The programs offered to them by ECT have allowed the to soar, gain self-confidence and be introduced to the Arts (something that they might never have had exposure to had they not been invited to participate in ECT's programs). These children were so beautiful, dressed in their Sunday best. They were nervous yet proud to be up in front of so many people. It was a wonderful sight to see. I so enjoy being a part of East L.A. Classic Theatre and knowing that in some small way I am helping a child flourish.
Submitted by admin on May 15, 2009 - 6:00 pm
This is no ordinary organization… The Children's Music Fund's mission is to provide musical instruments and Music Therapy to children with chronic and life altering illness. They also support research on the effects of Music Therapy and how it heals. I found this organization very interesting because of how a simple instrument can change a person's life. They say that channeling the brain's energy to musical sounds takes the focus away from the pain.
For more information on how you can help, click here.
I hope you all have a fabulous and safe weekend!
Submitted by admin on May 14, 2009 - 10:30 am
There is a reason that this picture one the Oscar for movie of the year. As one reviewer said it's "Epic. Touching. Horrifying. Romantic. Uplifting." Lucky for us, Slumdog Millionaire is available on DVD. (A little known fact is that I lived in India when I was 12 years old. Therefore, I particulalry enjoyed being transported back to India, with all of its colors, sounds, moods and more). Slumdog Millionaire is about a Mumbai teen who grew up in the slums & becomes a contestant on the Indian version of Who Wants To Be A Millionaire?. He is arrested for cheating & while being interrogated events from his life history are shown which explain why he knows the answers. I was moved and inspired by this film. (I really enjoyed the music, too). If you haven't seen Slumdog Millionaire, run, don't walk, to the video store (or your netflix account), to rent it. If you are lucky you will be this week's LBL member to win of the Tentación Thursday giveaway-the DVD Slumdog Millionaire.
Leave your comment below, for your chance to win the DVD Slumdog Millionaire.
Submitted by admin on May 13, 2009 - 10:30 am
I have been off of refined sugar for 13 days now and, surprisingly, it hasn't been too hard. My energy is up, I haven't had one headache, and overall I feel great! (Did I mention that my favorite old jeans kind of fit now?) For those of you that can't give up sweets, all together, I thought that I'd give you a sweet made with unrefined (cane) sugar this week. I made these cupcakes yesterday and they are great! Click Here for the recipe.
(Remember that just because something is made with unrefined sugar, doesn't mean that it's fat-free. So please consume this, and all treats, in moderation).
Submitted by admin on May 12, 2009 - 8:00 pm
As you all know, I've been on my Sugar-Free Challenge-in order to trim down a little. Things are going great! Well, I have an event to attend on Sunday evening, To Be Or Not To Be-Carlos Mencia, (to benefit East L.A. Classic Theatre). It will be a star-studded affair and I, too, would like to look like a star. So I have decided to treat myself to a new dress. I have narrowed my dress search down to 2 finalists and would love your opinion on which one to choose. Here are the contestants:
Dress #1
(The back of this dress is really cool. Click Here, to see it).
Dress #2
Please leave your vote, below. I will make my decision on Saturday morning, leaving me time to buy shoes.
Thank you so much.
Ana 🙂
P.S. It's not too late to buy tickets to attend To Be Or Not To Be-Carlos Mencia. If you don't live the the L.A. area you can still bid on items in the online auction. Win a trip to the set of Ugly Betty, in NYC, a gift basket full of my Pilates DVDs and more… Click here to go to the East L.A. Classic Theatre online auction.
Submitted by admin on May 11, 2009 - 10:30 am
A person's true wealth is the good he or she does in the world.
– Mohammed
I am so thankful to be surrounded by people who do amazing and generous things. It is important to surround yourself with truly good people, ones that do nice things for others. That is part of the reason that I created La Buena Life, to showcase people doing good and to make you all feel good (and look good). Think about those the company that you keep. Do they do good and generous things for the world? Do you? We are only as good as the company we keep.
Have a wonderful week!
Ana Cabán
Submitted by admin on May 8, 2009 - 4:00 pm
Today's fab feature is Lisa Elia!
She is the "it" public relations Guru that is now sharing the secrets she has learned having been in the business for 23 years. She has come up with a "do-it-yourself" system to help companies get on their feet even without the funds to hire a PR company
Her upcoming event is a 16-Week Teleseminar Series called "Secrets of PR Success," which begins on June 3. I recommend this program to everyone as it is beneficial for any business to have a clear publicity strategy. The conferences are also recorded in case you miss any of them and can be easily stored to refer back to at any given time.
For more information, please visit www.ClearPublicist.com. You can also find Lisa Elia on La Buena Life as she is a member with us. Feel free to add her and ask questions.
Have a wonderful weekend everyone!
« Newer Posts
—
Older Posts »