Submitted by admin on April 9, 2009 - 2:59 pm
Want to help the environment by using reusable bags (or save 5 cents at the check out counter)? You could use a bag that you have lying around your house. (I certainly have). Or you could tote the eco-friendly AND socially conscious FEED 100 bag. Not only is it cool, but it is GOOD.
One third of the proceeds from each FEED 100 bag sold provides 100 school meals for impoverished children in Rwanda. All FEED products are made as eco-friendly and fairly as possible. Bags are produced with high-quality, 100% organic cotton and natural burlap. Team FEED work with only audited and certified fair labor facilities. It's important to them to visit the places their products are made AND the places their donations are going.
The FEED 100 bag retails for $30. It can be purchased at Whole Foods Market and online by clicking here.
There are also other style FEED bags on the Feed Projects website. Click here to see them all.
One lucky LBL member will win this great bag. Leave a comment, below, and you will be entered to win.
¡Buena suerte!
Submitted by admin on April 8, 2009 - 10:30 am
With lots of vitamin D, selenium, B vitamins, magnesium, as well as the prized Omega-3 fats, salmon is one of the most delicious and nutritious foods on the planet. (And it tastes great, even to those of us that aren't really into fish). But salmon has many other health benefits. According to About.com, "People who eat fish seem to be protected from a host of conditions. Some of this is probably due to the omega-3 fats…Omega-3 fats seem to primarily work through reducing inflammation in our bodies. Inflammation is turning out to be at the base of many health problems, including heart disease, diabetes, some types of cancers and arthritis. Omega-3's also help prevent the blood clots which cause many strokes". There's more. "An exciting, fairly recent development is the realization that omega-3 fats have potential to help slow cognitive problems such as Alzheimer's disease and age-related cognitive decline. Also, people who have sufficient levels of omega-3's (especially as compared to omega-6 fats) seem to have less depression and suicide risk, as well as less aggression." So this week I thought I'd feature a low-fat recipe for Salmon with lemon, rosemary and capers. Who knows, it may not only satisfy our bellies but may also help keep us sharp, happy and peaceful.
Submitted by admin on April 3, 2009 - 10:30 am
Changing the World One Pair at a Time
Soles4Souls facilitates the donations of shoes, which are used to aid the hurting worldwide. Shoe companies, retailers, and individuals can donate footwear (both new and used). Soles4Souls is a 501(c)(3) recognized by the IRS, and donating parties are eligible for tax advantages.
The idea behind gifts of shoes is nothing new to the Soles4Souls team, as they coordinated relief efforts for the Asian Tsunami and Hurricanes Katrina and Rita, netting over 1 Million pairs donated for these disasters. The team originally operated as www.katrinashoes.org with several churches partnering in the collection and distribution of footwear.
Whether you are an individual, a corporation, a school, a church or a synagogue, YOU CAN HELP. To find out more about Soles4Souls, or to donate or volunteer please visit www.soles4souls.org.
Submitted by admin on April 2, 2009 - 10:30 am
I hope that you'll forgive a little self promotion. This week I thought that I'd feature my Pilates Body Sculpting Kit. An excellent addition to any Pilates workout, this unique Pilates Body Sculpting Workout Kit includes a six-inch sculpting ball and 33-minute instructional DVD. The ball can be incorporated into traditional Pilates exercises to enhance the use of the lower abdominal muscles and the inner and outer thighs, helping to tone and sculpt these areas quickly and effectively. Use the 6″ sculpting ball to flatten your abs (including those hard-to-isolate lower abdominal muscles), tone your hips, lift your butt and firm your thighs quickly and effectively in the full-length workout DVD.
I shot this DVD on a cliff in Sedona, Arizona. The scenery, alone, is breathtaking.
One lucky LBL member will win my Pilates Body Sculpting Kit. Leave a comment below and it may be you.
Submitted by admin on April 1, 2009 - 10:30 am
Spring is here! So why not enjoy a yummy and refreshing Ensalada de Aguacate y Piña?
Did you know that avocados are considered to be an almost complete food? Avocados are native to Central America and have been cultivated for thousands of years, they are rich in potassium and vitamin A. Avocados are also used traditionally to heal skin problems. The pulp is also believed to be both anti-bacterial and anti-fungal. And in certain parts of the world babies are even weaned using mashed avocado.
Did you know that one of the benefits of pineapple is that it helps to build healthy bones? Just one cup of pineapple provides 73% of the daily recommended amount of manganese, a trace mineral that is needed for your body to build bone and connective tissue. The benefits of pineapple can effect the growth of bones in young people and the strengthening of bones in older people.
Did you also know that pineapple can help with a cough or cold? The benefits of pineapple when you have a cold or cough are the same as the benefits of orange juice, but there is an additional benefit of pineapple. Bromelain, which is found in pineapples, has been found to help suppress coughs and loosen mucus.
¡Buen provecho y salud!
Here is a recipe that gets 5 stars. I hope that you like it!
Submitted by admin on March 31, 2009 - 10:30 am
Today I was in the mood for more Brazilian music. This is one of my favorite Bossa Novas, Agua de Beber by Antonio Carlos Jobim. It's just so groovy.
Take a listen on the LBL Music Player (on the main page). Enjoy!
Submitted by admin on March 30, 2009 - 10:30 am
We abuse land because we regard it as a commodity belonging to us. When we see land as a community to which we belong, we may begin to use it with love and respect.
– Aldo Leopold
So true. We are lucky to be enjoying the earth. We need to take care of it. I am thrilled to know that Earth Hour exists and that so many countries participated on Saturday night. (I made baby formula and blogged by candlelight. It was nice). In the UK, alone, over 200 landmarks – and world famous cultural symbols — including Big Ben, the Palace of Westminster in London, and Edinburgh Castle, went dark during World Wildlife Federation's Earth Hour. More than 100 cities and towns in the UK, including London, Belfast, Cardiff, and Edinburgh to Manchester, Newcastle, Bristol and Birmingham took part in what is set to be the biggest mass action on climate change. Thousands of individuals, organizations, and businesses also switched out their lights and took part in activities such as candlelit dinners to show global leaders that they want strong action to tackle climate change. Many other countries also participated. To read more about it click here.
It's a start. Let's all do our part to take care of this world.
Submitted by admin on March 27, 2009 - 10:30 am
Last spring I was invited by a friend LBL member, Lisa Elia, to participate in a fashion show to benefit City Hearts. I hadn't heard of the organization but was happy to help Lisa in any way that I could. Well, I ended modeling Lilly Pulitzer apparel at the fundraiser held at The Jonathan Beach Club in Santa Monica. It was a great event and my introduction to City Hearts.
City Hearts: Kids Say YES to the Arts is a non-profit organization that provides visual and performing arts programs to transform the lives of the most disadvantaged, at-risk children by providing the highest quality arts education, training and experience. Established in 1984 by criminal defense attorneys, Sherry and Bob Jason. City Hearts was founded on the belief that the arts are the most powerful tools with which to communicate and rehabilitate troubled youth at risk of becoming involved with gangs and drugs. City Hearts has come to be an integral part of the preventive and rehabilitative effort in Los Angeles, inner city, and serves as a model for youth diversion programs across the country.
To learn more about City Hearts and how you can support its mission, please visit www.CityHearts.org.
Submitted by admin on March 26, 2009 - 10:30 am
What goes on your body is as important as what goes in your body.
In a world where more and more companies claim to be "natural," Lafe's Natural & Organic products strives for the highest possible standards achievable, by offering certified organic products, many of which bear the prestigious USDA green seal. Additionally, they have signed the Safe Cosmetics Pact agreeing not to use known carcinogenic or harmful ingredients.
As a result, all of Lafe's Natural Body Care product collections are free of parabens, glycol, PEGs, and sodium laureth. And their vigilance doesn't stop with what's inside the bottle – with their new line of baby products, they're setting higher standards for their packaging, safeguarding a new generation against chemicals that can be harmful to child development.
With Lafe's new line of baby products, they've raised the bar on their high standards to unprecedented new levels. Not only are these products at least 95 percent certified organic, but they are also packaged in plastic free of estrogenic activity. This baby-safe, EA-free plastic addresses the concerns recently raised by consumers over Bisphenol A and creates a higher standard to safeguard against chemicals that trigger endocrine disruption.
My baby loves his Lafe's Natural & Organic Baby Oil.
This week one lucky LBL member will win a bottle of Lafe's Natural & Organic Baby Oil. Enter a comment below and you will be entered to win.
Submitted by admin on March 25, 2009 - 10:30 am
I am not sure if anyone enjoys breakfast as much as I do. I could, seriously, eat it all the time. (And it's actually the one meal that I say, with confidence, that I can cook). I found this scrambled egg burrito recipe and had to share it with you. Try it out and let me know what you think!
Submitted by admin on March 24, 2009 - 10:30 am
Here's another song that'll make you wanna move, Mírala. This song is a collaboration of longtime salsa star, Oscar D'Leon and the band Zona 7 (who has been combining reggae and rock since the late 90's). I hope that you enjoy this song as much as I do.
Check it out on the LBL Music Player (on the main page).
Submitted by admin on March 23, 2009 - 10:30 am
How far you go in life depends on your being tender with the young, compassionate with the aged, sympathetic with the striving and tolerant of the weak and the strong. Because someday in life you will have been all of these.
– George Washington Carver
This is so true. LIfe is full of ups and downs. Therefore, it is important to be aware of & sensitive to those who may be encountering a period of difficulty in their lives. Please make it a point to help someone this week.
Wishing you all a very positive and rewarding week!
Submitted by admin on March 20, 2009 - 10:30 am
Turn out. Take action.
Be part of this historic event.
March 28, 2009, 8:30 pm local time

World Wildlife Fund is asking individuals, businesses, governments and organizations around the world to turn off their lights for one hour – Earth Hour – to make a global statement of concern about climate change and to demonstrate commitment to finding solutions. Nearly 100 US cities, towns, and communities have now pledged to "turn out" for the largest climate event in history, with more signing up each day. Baltimore, Boston, Charlotte, Pittsburgh, Tucson, Orlando, and not one, but two Arlingtons—Texas and Virginia! Please join me in supporting this amazing event. Click here to learn more or just click here to sign up.
Submitted by admin on March 19, 2009 - 10:30 am
Aluminum water bottles make sure your water remains free of unhealthy plastic residues, while keeping disposable water bottles out of landfills. I have been carrying an aluminum water bottle around for about 2 years now. I love them! Firstly, I like that I am doing something to help the environment. Secondly, I am helping myself (by not picking up any plastic residue). And thirdly, I always have water. I fill my bottle up from my water filter at home and I am set to go. (I take my bottle everywhere with me). I also like that aluminum bottles tend to keep liquids cooler than plastic bottles. I have this water bottle and I love the sports cap. I don't have to keep putting on and taking off the cap each time I take a sip. If you'd like to purchase this bottle, or view thousands of other cool eco-conscious products visit www.Gaiam.com.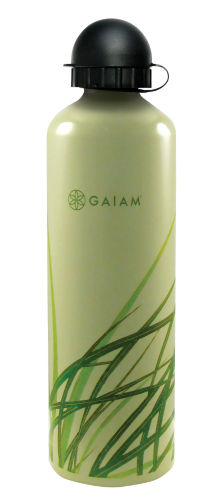 This week one lucky LBL member will win the GAIAM Grass Aluminum Water Bottle. Enter a comment below and you will be entered to win.
¡Buena suerte!
Submitted by admin on March 18, 2009 - 10:30 am
Oh, how I love the tropics. And living here in Southern California, it often feels like I am in the tropics. (Well, not quite as humid). Take yesterday, for instance. I spent the early part of the day at The Americana, an open-air mall, in Glendale. It was sunny, 75 degrees out and the perfect day for a tropical smoothie. The closest thing that I could find was a strawberry-lemonade slushy. But I did manage to track down this Mexican-inspired tropical smoothie recipe for you all to enjoy.
¡Buen provecho!
Submitted by admin on March 17, 2009 - 10:30 am
I love Jazz (and of all eras). One of my Jazz favorites is Dizzy Gillespie. This week I wanted to share his version of a famous bossa nova, entitled Desafinado. If I close my eyes I am transported back to a concert that I saw of him in New York City, in my teen years. My dad drove my friends and me to the City (a 3 1/2 hour drive from my hometown in Western Massachusetts-go Dad!) to see the concert. I still remember Dizzy's cheeks. I couldn't get over how much he reminded me of a chipmunk. He was amazing!
Enjoy Desafinado on the LBL Music Player (on the main page).
Submitted by admin on March 16, 2009 - 10:30 am
Opportunities are usually disguised as hard work, so most people don't recognize them.
– Ann Landers
So true. I have to say that I have felt blessed to be given many wonderful opportunities in my life. However, none have come without some effort on my part. You reap what you sow. That being said, I try to always be positive, keep my eyes open for opportunities, embrace them and work hard at whatever comes my way.
Wishing you all una semana fantástica (a fantastic week)! Keep your eyes and ears open for opportunities in life, love, career, family…everywhere. And remember to dream big!
Submitted by admin on March 13, 2009 - 10:30 am
The mission of OneKid OneWorld is simple: to make a difference in the lives of children in need around the globe: One world, one school, one kid, at a time. They are an education and sports based grassroots organization partnering U.S high school students with rural schools and kids in refugee camps in war torn and poverty stricken areas of the world. One soccer ball and one notebook can have a profound affect on the lives of kids who have nothing. Yes, it's a little victory but our goal is to make all of those little victories add up to one big one. Founded in 2005 by Josh Bycel and David Brownlee, OneKid OneWorld has raised over $200,000 for schools that are barely surviving. Their goal is to figure out the schools need to stay open another day and then obtain those things.
OneKid's first project was the Nyamasare Girls School and Orphanage in Suba, Kenya, an area that has one of the highest HIV/AIDS infection rates and one of the highest child mortality rates in all of East Africa. So far, they have accomplished the following:
• Built a new, beautiful, permanent lab/classroom that will allow the students to take national exams for the first time.
• Bought textbooks for the entire school in every subject for a generation of students (which we personally delivered).
• Bought bunk beds, mattresses and mosquito nets for the girls who live at the school.
• Built a permanent fence around the school to protect the girls.
• Sporting equipment and uniforms were donated to create the school's first athletic program.
• Lastly, they paid school tuition for a year for over one hundred of the students.
What sets OneKid OneWorld apart from all the other non-profits out there?
There are a few things that set OneKid OneWorld apart from other non-profits:
• One: They're small. And that's on purpose. They know you can't save the whole world. They are just trying to help one school at a time. Each of our projects will focus on one school and will have a clear and comprehensive plan for what that school needs.
• Two: The money goes to what the money should go to. They are a volunteer organization. Their promise is to make sure that on every project at least 95% of the donations go straight to the school.
• Three: The most important one of all; it's about the kids. Their goal is be an organization for kids, run by kids. they want the students in the United States to find the schools in need, organize the donation drives, figure out the logistics of getting the donated goods and money to the schools and, eventually, travel to the schools to see, first hand, what a difference they can make.
OneKid OneWorld is doing (and has done) so much more than listed above. They have now expanded to El Salvador, where they are helping el Centro Escolar Caserillo Puerto El Lano in Nejapa. In 1999, land was donated to build the school. Parents, teachers and the community got together to begin construction of the school. Construction was finalized in a couple of years with government funds and support from the community and local businesses. They now have a total of FOUR classrooms. They were using TEXTBOOKS FROM 1992 until OneKid OneWorld bought NEW TEXTBOOKS for the entire school.
However, TWO of those classrooms are temporary, made from aluminum due to the damage they received from the two earthquakes in 2001. Since then, they have not had the money to rebuild the classrooms. Due to lack of funds they now have the computer room with no electricity or windows and the library is still missing windows, doors and electricity. OneKid OneWorld hopes to assist the Centro Escolar Caserillo Puerto El Lano in its repair.
To learn more about OneKid OneWorld and how you can support them, please Click Here. You can contribute money, sporting goods, school supplies and more. A contribution of $250 can send a girl to school for an entire year, at the Nyamasare Girls School and Orphanage in Suba, Kenya. (85 girls still need assistance paying for their education. Please help, if you can).
Life is short. Make a difference.
Submitted by admin on March 12, 2009 - 10:30 am
Almonds are a simple, tasty choice that can make a big difference. They are heart smart, satisfying, nutrient rich & a great antioxidant source. For years almonds have been shown to lower cholesterol as part of a diet low in saturated fat. Almonds are filling due to the protein, fiber and monosaturated fat that they provide. According to AlmondsAreIn.com "A one-ounce serving of almonds (about 23 almonds) is an excellent source of vitamin E, magnesium and manganese, and a good source of fiber, copper, riboflavin, and phosphorus. Not to mention, every ounce has 6 grams of protein, and 12 grams of heart-healthy unsaturated fats… Almonds are one of the leading food sources of alpha-tocopherol vitamin E. Alpha-tocopherol is the kind of vitamin E the human body absorbs best. Data shows that most Americans get only half of their recommended vitamin E per day and almonds are the ideal way to close that gap".
For years I have been carrying almonds in my bag & my car, as a quick and easy snack. Up until now I had been storing them in plastic bags. Now there is a cool almond tin, just the right size for a snack. This almond tin is available at AlmondsAreIn.com.
This week not one, but 3, lucky LBL members will win an almond tin, filled with California Almonds. Enter a comment, below, to be included in the drawing for one of 3 almond tins.
Submitted by admin on March 11, 2009 - 10:30 am
In Spain, tapas is the word used to refer to a wide variety of appetizers. They may be cold or warm. Over the past few years tapas have become popular in American culture and serve as more of a meal than an appetizer. Groups out for tapas usually order lots of different types, grab toothpicks and try a bit of each, While spending my junior year abroad, at the University of Seville, in the south of Spain my favorite tapa quickly became gambas al ajillo (garlic shrimp). I have tracked down a healthy version of my fave (referred to as Sizzled Shrimp) for you to enjoy.
¡Buen provecho!
Click here for Sizzling Shrimp recipe.
« Newer Posts
—
Older Posts »