Submitted by admin on February 12, 2010 - 11:30 am


Find more videos like this on La Buena Life
La Buena Life winner Bobbi Palmer, of Date Like a Grown Up, tries out the La Buena Life Flip Camera that she won from our "Bad Hair" Contest. Click Here to learn more about Date Like a Grown Up.
Submitted by admin on February 11, 2010 - 11:30 am
This week I am featuring a great gift for a friend with a baby. It's the kate quinn organics Hooded Towel & matching 10 pack Washcloth set. This set is made of 100% certified Organic Terry Cotton and comes all wrapped up in the kate quinn organics logo ribbon. kate quinn organics prides themselves on creating stylish apparel made from the finest 100% certified organic cotton, They strive to care for the earth and its community without sacrificing fun and style. Their website is filled with adorable baby clothes, shoes, bedding and furniture. But that's not all. They also have a women's line, so be sure to check it out!
For more information on kate quinn organics Click Here.
ONE lucky La Buena Life Member will win a set of kate quinn organics washcloths & hooded towel set. Leave a comment below for your chance to win. (Please enter your commnet by Thursday 2/1/10 at 7:00AM PST).
Submitted by admin on February 10, 2010 - 11:30 am
Brrr, it's cold outside (even here in So Cal). This week I can't seem to get enough soup. And one of my favorites is mushroom barley soup. So I tracked down this recipe for us all to try out. Let me know how you like it.
Ingredients:
1 ounce dried mushrooms
3 cups water
1 large onion, chopped
2 carrots, chopped
1 rib celery, chopped
12 ounces cremini or button mushrooms, stems removed, sliced
1 1/2 teaspoons dried oregano
2 cans (14 1/2 ounces each) fat-free reduced-sodium chicken broth
1/2 cup barley
1/4 teaspoon salt
For cooking instructions Click Here.
Submitted by admin on February 8, 2010 - 11:30 am
Thank you so much to those of you who participated in my survey, at the end of last year. It helps me to know what keeps you coming back to La Buena Life and inspires me to create even better content for you. This year is going to be great!
In an effort to get your week off to a great start I've decided to share my workouts and fit tips with you each Monday morning,
Do you have any workout suggestions? I am always up for trying new workouts.
Do you have any fitness questions for me? Let me know, in the box below.
Gracias!
Submitted by admin on February 5, 2010 - 11:30 am
I was shopping at the
Lucy
(workout apparel) store, in Studio City, a couple of days ago and I saw a flyer about Off The Mat Into The World (OTM). OTM was co-founded by Yogi & Lucy Pro, Seane Corn. OTM is a non-profit program of The Engage Network (501C3), dedicated to bridging yoga and activism. Corn believes in using the power of yoga to inspire conscious, sustainable activism and ignite grassroots social change. At its root, the word yoga actually means 'union' – of mind, body and spirit. Corn believes that yoga opens hearts and expands our awareness of self. And this creates space for balance and deep change in our lives.
To learn more about Off The Mat Into the World
Click Here
.
Submitted by admin on February 4, 2010 - 11:30 am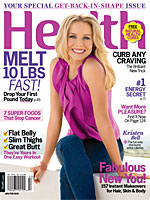 I love Health Magazine! It's full of all kinds of useful info. I always look forward to receiving it. In this month's Issue you can read about: How to Get a Better Nip or Tuck How to Give Your Skin a Winter Wake-up When It's OK to Skip the Doc America's Healthiest Superfoods for Women America's Healthiest Superfood Combos 20 Ways to Get Healthier for Free and more… For more information on Health Magazine Click Here. One lucky LBL member will win a year's subscription to Health Magazine. Leave a comment, below, for your chance to win. (Please respond by 7:00AP PST on Thursday 2/11/10). Buena Suerte!
Submitted by admin on February 3, 2010 - 11:30 am
OMG! Yum! I grew up on Saturday morning waffles. (My dad would make them from scratch and pick strawberries from our straberry patch, toss them in the blender and then pour them over the waffles. Sometimes we'd even top them off with homemade whipped cream, But I digress…) I just never thought of doing something so unconventional as making a sandwich out of them. What a fun idea! I spotted this recipe and had to share it with you.
Buen provecho!
Ingredients
8 frozen toaster waffles
1 tablespoon Dijon mustard (optional)
1/2 pound sliced deli ham
1/4 pound Cheddar, thinly sliced (for a lighter version opt for reduced fat cheddar)
4 tablespoons unsalted butter (for a lighter version skip replace butter with a cooking spray, instead
For preparation instructions Click Here.
Submitted by admin on February 2, 2010 - 11:30 am
Beyonce, You Go Girl! The winner of 6 Grammy Awards on Sunday night has long been one of my favorite workout artists. Her music keeps me moving on the treadmill. Here's her Grammy Award-Winning Song of The Year, Single Ladies (Put a Ring on It). She also took home Grammys in the following categories:
"Halo" Best Female Pop Vocal Performance
"Single Ladies (Put A Ring On It)" Best Female R&B Vocal Performance
"At Last" Best Traditional R&B Vocal Performance
"Single Ladies (Put A Ring On It)" Best R&B Song
"I Am… Sasha Fierce" Best Contemporary R&B Album
Submitted by admin on February 1, 2010 - 11:30 am
I sit here, writing my blog, as I watch The Grammy Awards. Multitasking, at it's best. Lately, it seems that there is just not enough time to do everything. I mean, even last week I commented that the week just flew by, (even though each day seemed long). How does that work, anyway? All I can say is that there is a serious need for time management in my life. I'll take any suggestions that you have, because i don't see my life slowing down anytime soon.
Submitted by admin on January 29, 2010 - 11:30 am
My son is now 16 months old and running all over the place. When I am able to get him to sit down for a few moments I love reading a book to him. Of course, right now it's more about turning pages than hearing the entire story, however. Reading to him today I was reminded of when I used to volunteer for The Wonder of Reading, an organization here in Los Angeles. The Wonder of Reading pairs up volunteers with students that would benefit from some private time in the library, reading with an adult. Sometimes I would read to my student, Scott, and other times he would read to me. Or I might read a page and he might read one. I read with Scott through his 2nd and 3rd grade years, until he moved and switched to another school I really enjoyed that hour every week. It was so nice to be back in an elementary school. It kept me in touch with the simple things, (you know carton milk and pizza Fridays. LOL). No seriously, I really enjoyed that time.
The Wonder of Reading is an amazing organization. If you live in the Los Angeles area and would like to volunteer, or if you live elsewhere and would like to support the work of The Wonder of Reading please Click Here.
Is there an organization like this where you live? If so, We'd love to hear about it. Tell us more, below.
Submitted by admin on January 28, 2010 - 11:30 am
As you've probably noticed, I am on a Hawaiian trip this week. So today I am giving away a copy of the Amy Hanaiali'i's Grammy Nominated Album Friends & Family of Hawaii. On this album you'll enjoy Amy's duets with Grammy Award Winners Willie Nelson and John Cruz (my friend) and more…
For more information on Amy Hanaiali'i Click Here.
La Buena Life Members, for your chance to win, leave a comment in the box below.
Buena Suerte!
Submitted by admin on January 27, 2010 - 11:30 am
Ingredients:
Chicken Breast
Low Fat Swiss Cheese
Low Fat/Low Sodium Baked Ham
Pineapple Slices
No Sodium Lemon Pepper Marinade
Want to the taste of Hawaii, healthy-style? Here is a video to make grilled pineapple chicken. I'm going to make it tonight. Buen Provecho!
Submitted by admin on January 26, 2010 - 11:30 am
I had the pleasure of meeting Grammy Nominee Amy Hanaiali`i last weekend at a special reception for the musician's of the Southern California Slack Key Festival at Trader Vic's L.A. Amy's latest album, Friends & Family Of Hawai`i, has been nominated this year for the Grammy Best Hawaiian Music Album. She is also the cousin of my friend John Cruz (who sings the George Harrison duet "What Is Life" on her Grammy Nominated album).
This Friday The Grammy Museum will host a special concert to showcase all of the Grammy Nominees from Hawaii. Amy & John will perform "What is Life".
Join me there, to see them perform.
Friday, January 29th at 7:30PM
The Grammy Museum at LA Live
800 W. Olympic Blvd.
Los Angeles, CA 90015
213-765-6830
http://www.grammymuseum.org
FREE
Submitted by admin on January 25, 2010 - 11:30 am
So, I decided that it was time to ingest more fruits and vegetables. And then I remembered that I have this AMAZING juicer, in my cupboard. Today I whipped out my Breville Juice Fountain Plus and threw in a concoction of carrots, granny smith apples, spinach and ginger. It was delicious! (My son loved it, too). The Breville Juice Fountain Plus is a great juicer because it can juice almost anything, (including whole apples), and it's really easy to clean.
Want to try out a Breville Juice Fountain Plus? Click Here
Happy Juicing!
Submitted by admin on January 22, 2010 - 11:30 am
Please tune in tonight for Hope For Haiti Now: A Global benefit for Earthquake Relief, where the music world will come together for a massive global telethon to raise fund's for the victims of the Haitian natural disaster. Concerts will take place in New York City, Los Angeles, London and Haiti. Haiti native Wyclef Jean will host the New York City proceedings, actor George Clooney host in Los Angeles & CNN's Anderson Cooper will report from Haiti.
Viacom's MTV Networks will produce the two-hour broadcast, which will be the most widely distributed telethon in history, both internationally and across media platforms. "Hope for Haiti Now" will air live and commercial free at 8 p.m. ET on ABC, CBS, NBC, FOX, CNN, BET, The CW, HBO, MTV, VH1, CMT, PBS, TNT, Showtime, COMEDY CENTRAL, Bravo, E! Entertainment, National Geographic Channel, Oxygen, G4, CENTRIC, Current TV, Fuse, MLB Network, EPIX, Palladia, SoapNet, Style, Discovery Health, Planet Green, and Canadian networks including CBC Television, CTV, Global Television, and MuchMusic. Even better, the event will be live streamed online globally across sites including YouTube, Hulu, MySpace, Fancast, AOL, MSN.com, Yahoo, Bing.com, BET.com, CNN.com, MTV.com, VH1.com, and Rhapsody and on mobile via Alltel, AT&T, Sprint, Verizon, and FloTV. SO THERE'S NO REASON NOT TO TUNE IN! Get ready for performances by Bruce Springsteen, Jennifer Hudson, Mary J. Blige, Shakira, Sting Wyclef Jean, Taylor Swift, Justin Timberlake, Dave Matthews, John Legend, Stevie Wonder, Keith Urban, Jay-Z, Rihanna and more.
Proceeds from the telethon will be split evenly among seven relief organizations currently operating in Haiti: Oxfam America, Partners in Health, the Red Cross, UNICEF, The Clinton Bush Haiti Fund, United Nations World Food Programme and yele Haiti Foundation. The best part is that you can show your support by purchasing the night's performances for 99 cents each through iTunes starting Saturday.
Submitted by admin on January 21, 2010 - 11:30 am
Finally, I have found a tooth whitening system that will remove stains from not only natural tooth enamel, but artificial ones like bondings, veneers, caps, crowns and dentures. Due to a childhood accident I have a crown on one of my front teeth. Until now, I had never found a tooth whitening system that was safe enough for me to use on all of my teeth. (Most tooth whitening systems would remove stains from my real teeth and leave the crown a bit on the stained side. Not any more.) Now I can use supersmile and clean ALL of my teeth.
Created by DR. IRWIN SMIGEL, world renowned "Father of Aesthetic Dentistry. Supersmile isn't made up of harsh abrasives, which can cause sensitivity to my teeth. It is a clinically proven collecion of premium whitening, breath freshening and cavity-fighting ingredients. These ingerdietns deliver the most comprehensive, safe and effective at-home oral care, available. Get ready for beautiful and healthy teeth and gums!
For more information on supersmile Click Here.
Remember that ONE lucky La Buena Life Member will win their own supersmile Professional Whitening System.
For your chance to win please leave a comment in the box, below. (Please submit comment by 7:00AM PST Thursday, January 28th, 2010).
Submitted by admin on January 20, 2010 - 11:30 am
Happy birthday to me, Happy birthday to me, Happy birthday, Dear Ana, Happy birthday to me!
Yes, it's my birthday. And what I want for my birthday are fish tacos. Yum! Here is a recipe for healthy fish tacos.
The ingredients are:
1 cup nonfat sour cream
1/4 teaspoon salt
2 canned chipotle chiles in adobo, seeded and minced
1 tablespoon butter
1 cup chopped onion
1 cup chopped tomato
1 teaspoon ground cumin
1/2 teaspoon cinnamon
1/2 teaspoon salt
4 cloves garlic, minced
3 tablespoons chopped fresh cilantro
1 lb tilapia fillet
2 tablespoons fresh lime juice
1 teaspoon grated lime zest
4 fat free tortillas, wrapped in foil and heated in oven

To learn how to make them Click Here.
Submitted by admin on January 19, 2010 - 11:30 am


The Grammy Awards are right around the corner, (literally and figuratively). So I thought I'd feature the Black Eyed Peas, who are nominated for the Grammy for Record of the Year-Meet Me Half Way.
Disfrútala! (Enjoy!)
Submitted by admin on January 18, 2010 - 11:30 am
Extra, Extra! The La Buena Life Survey results are in. (Thank you to those who participated). Your responses will help me make La Buena Life even better in 2010. It seems that you want to see more of me. Well, your wish is my command. Get ready for more interaction with me, the latest in fitness trends, cool products, recipes, music, and more. And make sure that you're on my mailing list, so that you'll never miss out on my latest adventures, including behind the scenes footage of my Roarin' 20's FORTIETH birthday party. (Yes, I am really FORTY, well actually, I will be on Wednesday, January 20th). Not on the list? It's not too late! Just sign up on the Main Page.
Have a tremenda semana! (A tremendous week!)
Ana Cabán
Submitted by admin on January 15, 2010 - 7:30 pm
You all know that I love healthy (and yummy) food, cool products, clothes and organizations. Well, I've decided to share my favorites, each month.
My "fave" things this January are:

1. Disney's Give a Day. Get a Disney Day! Disney Parks is celebrating the spirit of giving, this year. When you donate your time to one of their participating organizations they will give you a one-day park admission. Click Here
2. Baby Cakes NYC, now in Los Angeles, and making my birthday cake! (More on that next Monday). Click Here
3. Think and Grow Rich by Napoleon Hill. The original edition may have been written in 1937, however its contents are still relevant. Inspired by Andrew Carnegie's formula for success, this book will teach you those secrets and more. Click Here
4. Bobbi Brown SPF 15 Tinted Moisturizer. I don't leave home without it on! Click Here
5. Not Your Daughter's Jeans (NYDJ). They tuck in the tummy and slim the thighs. Click Here
« Newer Posts
—
Older Posts »