Submitted by admin on September 18, 2009 - 4:59 pm
Mission:
"Children's Health Fund, founded in 1987 by pediatrician/child advocate Irwin Redlener, MD, and singer/songwriter Paul Simon, is committed to providing comprehensive health care to the nation's most medically underserved children through the development and support of innovative primary care medical programs and the promotion of guaranteed access to appropriate health care for all children." To find out more about the Children's Health Fund and how you can spread the word, click here.
Submitted by admin on September 17, 2009 - 3:00 pm
I have a really cool product today from Belli. Belli is a skincare line that supports expectant and new mothers during a time of unique skin care issues, heightened safety concerns and emotion. As a new mom, I understand that such an important role is a blessing and a challenge. You want to make sure that you are doing everything in your power to provide the best care for your bundle of joy.
As a skin care line that is teratology screened, Belli reports a higher standard for prenatal safety. Belli Motherhood is LactMed screened as a measure to avoid ingredients linked to harmful effects during breastfeeding. Belli Baby prides itself on xenoestrogens screenings for chemicals which can interfere with normal development of the reproductive system. For more information on Belli go to www.belliskincare.com.
If you're a mother or want a gift for a new mom, please leave a comment below to enter to win 1 Motherhood Essentials Kit:
Pure Comfort Nursing Cream, Eye Brightening Cream, Body Firming Serum, Moisturizing Hand Sanitizer and Foot Relief Cream.
Submitted by admin on September 16, 2009 - 2:00 pm
Did you know?
Thyme tea is an often used home remedy for colds and flus. Drinking thyme helps fight infection, clear your upper respiratory system of mucus, and calm your cough. You can purchase thyme tea at most health food store or you can make it at home with dried thyme and boiling water.
Submitted by admin on September 15, 2009 - 2:00 pm

— Mika: Take it Easy
This song is brilliant and such a stress reliever. It has a a great upbeat dance/Beatles feel.
What do you think of it?
Submitted by admin on September 14, 2009 - 3:30 pm
Life is like a taxi. The meter just keeps a-ticking whether you are getting somewhere or just standing still.
— Lou Erickso
I always refer to this quote. It's a clever way to say that we're not getting any younger and have to approach life actively and not let is just pass us by.
What's your interpretation?
Submitted by admin on September 11, 2009 - 3:00 pm
My son Vincent turned one yesterday and we're celebrating his birthday tomorrow with our friends and family. In lieu of gifts, I've asked everyone to make a donation to Peace4Kids. Since I've adopted him, he's been the most wonderful light in my life and I just wanted to share this organization with you all.
"Peace4Kids provides programs and services for foster and at-risk youth from ages 5-18, and after emancipation until age 24. Peace4Kids is truly on the front lines in addressing the needs of foster and at-risk youth in the South Los Angeles neighborhoods of Watts, Willowbrook and Compton."
To make a donation or find out more about Peace4Kids, click here.
Submitted by admin on September 10, 2009 - 2:00 pm
Today I'm giving away the long awaited for, BabyCakes Cookbook: the Vegan, (Mostly) Gluten-Free, and (Mostly) Sugar-Free Recipes from New York's Most Talked-About Bakery.
"In this book, Erin has finally shared her trade secrets — the ingredients and techniques that lend BabyCakes' desserts the flavors, textures, and happiness-factor you'd find in the best patisserie. The highest praise I can offer is this: follow her recipes to the letter and you'll fool them every time."
—Tom Colicchio (from the Foreword)
"At BabyCakes NYC I can eat what I crave without harming my lovely animal friends–or myself. Every since that first fateful day, I've been waiting for this cookbook."
—Natalie Portman
Add your comment below to enter to win the BabyCakes: Cookbook
For more about BabyCakes NYC™, click here.
Submitted by admin on September 9, 2009 - 2:00 pm
Did you know?
"For people who have had a first heart attack, chocolate consumption dramatically reduces the odds of dying from a future heart attack, according to new research out of Stockholm, Sweden. Read further for the right "dose" of chocolate." -Steve Parker, M.D.
There you have it folks! An excuse to endulge on delicious chocolates…I'm reaching for the box now.
Submitted by admin on September 8, 2009 - 12:00 pm
Sieze the day! Sometimes we feel like the sky is falling until we take a step back and factor in all the GOOD things we have. There's always a reason to feel like you're Walking on Sunshine!
Submitted by admin on September 7, 2009 - 12:00 pm
Do not dwell in the past, do not dream of the future, concentrate the mind on the present moment.
Buddha
Sometimes we waste our thoughts on the past and fill our days with events to benefit our future – and in doing so, we forget to enjoy the present moment. Be thankful for everyday we have.
Submitted by admin on September 4, 2009 - 10:30 am
A few months back I featured Global Nomads Group, on a Fabuloso Friday. Global Nomads Group (GNG), an international NGO that creates interactive educational programs for students about global issues, was established over ten years ago. GNG's educational programs include (1) four types of videoconferences — The PULSE, Currents, Innovations and Rapid Response — where students learn about and discuss subjects with their peers from around the world in live, facilitated sessions; and (2) videos and learning content on a variety of international issues relevant to teachers and students.
All GNG programs are directly linked to school curricula, education standards and 21st century learning objectives, and are accompanied by lesson plans and training to teachers. Programs are broadcast during the school day and cover a range of topics in the curriculum, including civics, social and global studies, geography, world history, science, economics and politics.
Well, fellow LBL member and my friend, Tonya Muro Phillips, works for GNG. And right now she is sailing on the MV explorer, to Cadiz, with the Semester at Sea (SAS) program. This is the historic 100th sailing of SAS and GNG is happy to be partnering with them on this voyage. Here is what Tonya has to say about this voyage,
"For those of you who do not have a clue as to what I am doing aboard the SAS ship, I thought I would briefly share that GNG is going to be broadcasting live videoconferences with secondary schools in each of the countries where SAS sails, along with schools in North America. The videoconferences are based on the manifold issues surrounding globalization and the flat world – the theme of the voyage. We will also be documenting a service learning project called the $100 Solution. We are thrilled that the faculty wants to work with us by attending our videoconferences, etc.".
If you are interested in following Tonya's voyage and the work of GNG please viist her blog, Feelin' Nomadic. To learn more about Semester at Sea Cick Here.
Happy Sailing!
Submitted by admin on September 3, 2009 - 10:30 am
I am not much of a soda drinker. In fact, don't drink much more than water. However, I was recently introduced to DRY Soda. OMG! It's great! If you like a refreshing, natural beverage that's not too sweet this is the drink for you. Dry Soda is flavored with fruit, flower and herb extracts and sweetened with a small amount of pure cane sugar. It's available in seven delicious flavors – Cucumber, Juniper Berry, Kumquat, Lavender, Lemongrass, Rhubarb and Vanilla Bean – each twelve-ounce bottle of DRY Soda contains ONLY 45-70 calories and 14-19 grams of sugar. DRY's award winning design, distinctive flavor profiles and clean finish make it the ideal soda to sip on its own, pair with a great meal or mix into a top-shelf cocktail.
One lucky LBL Member will win a case of DRY Soda. For your chance to win, check out all the flavors Here and then leave a comment below with the name of the flavor you think you'd enjoy best!
Submitted by admin on September 2, 2009 - 3:30 pm
Fresh veggies with low fat cream cheese is a great hearty meal that's fuss-free and easy to make. Just grab your favorite veggies, a bagel, and some spread and voilà, you have a meal with 3 food groups (dairy, vegetable, bread).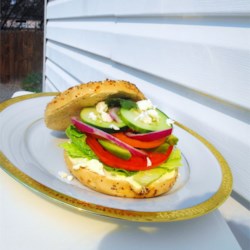 Bon Apetit!
Submitted by admin on September 1, 2009 - 5:00 pm
(Just for giggles).
What Happens When You Have…
1) Nothing to do
2) A sharp knife
3) A large lime
4) A patient cat
5)) And it's football season?
You Get a Feline Football Player!*
*Please note: No Animals Were Harmed in the Posting of this Blog.
Submitted by admin on August 31, 2009 - 10:30 am
Sometimes I lie awake at night, and I ask, 'Where have I gone wrong?' Then a voice says to me, 'This is going to take more than one night.' Charlie Brown
Don't we all ask ourselves that at one time or another? I certainly have. The trick is not to dwell on our mistakes, rather to forge ahead with new resolve.
With that, I wish you all an amazing week!
Ana
Submitted by admin on - 5:20 am
To anyone new like myself, I justed wanted to give my opinion on a couple of Ana's videos. First off, I love having her as my instructor even thought it's in my living room. The pace in easy pilates was perfect. That DVD really helped to get me going in the morning, and a nice relaxing state of mind after work.
I just did my first workout to the Cardio DVD. Some of the positions were tough and man do you need a solid core to make it through the workout. WOW did this session kick my butt! I loved it, Ana really picks up the pace and takes it to a whole new level of pilates. It may be basic for someone more experienced, but it was a smooth transition for me.
The Cardio segment was awesome. What a great way to get going without killing yourself! Once I got the steps down I was having so much fun, and Ana's little side comments keep it fun and enjoyable.
Being that I really enjoy martial arts, I found it easy to include some of my own steps to combine the workouts. Fantastic DVD, great time, highly recommended!
Submitted by admin on August 28, 2009 - 1:00 pm
Have you heard of The GreaterGood Store? It's a site that sells products that fund charities and organization. You can find tons of cute gifts here that give back to the following causes:
* Hunger
* Breast Cancer
* Animal Rescue
* Child Health
* Literacy
* Rainforest
Visit the site by clicking here.
Submitted by admin on August 27, 2009 - 1:00 pm
I found this inspirational necklace on The Breast Cancer Site. It praises the beautiful messages, "Hope," "Faith," and "Love."
Enter to win this meaningful charmer by entering a comment below.
Submitted by admin on August 26, 2009 - 1:00 pm
On the go and need a quick healthy fix? This is a great product for busy bodies always on the run.
* 2x the antioxidants of blueberries
* Rich in heart healthy omegas 3-6-9, fiber and protein
* Perfect for making traditional Brazilian Açaí bowls and smoothies
* Sugar-free option for those sensitive to sugar
Submitted by admin on August 25, 2009 - 1:00 pm
We can do whatever we put our minds to, as long as we believe we can. It's the positive energy that pushes us one step closer to reaching our goals. This song says is best… Enjoy the lyrics and video!
There can be miracles
When you believe
Though hope is frail
Its hard to kill
Who knows what miracles
You can achieve
When you believe somehow you will
You will when you believe
« Newer Posts
—
Older Posts »