Submitted by admin on September 3, 2009 - 10:30 am
I am not much of a soda drinker. In fact, don't drink much more than water. However, I was recently introduced to DRY Soda. OMG! It's great! If you like a refreshing, natural beverage that's not too sweet this is the drink for you. Dry Soda is flavored with fruit, flower and herb extracts and sweetened with a small amount of pure cane sugar. It's available in seven delicious flavors – Cucumber, Juniper Berry, Kumquat, Lavender, Lemongrass, Rhubarb and Vanilla Bean – each twelve-ounce bottle of DRY Soda contains ONLY 45-70 calories and 14-19 grams of sugar. DRY's award winning design, distinctive flavor profiles and clean finish make it the ideal soda to sip on its own, pair with a great meal or mix into a top-shelf cocktail.
One lucky LBL Member will win a case of DRY Soda. For your chance to win, check out all the flavors Here and then leave a comment below with the name of the flavor you think you'd enjoy best!
Submitted by admin on September 2, 2009 - 3:30 pm
Fresh veggies with low fat cream cheese is a great hearty meal that's fuss-free and easy to make. Just grab your favorite veggies, a bagel, and some spread and voilà, you have a meal with 3 food groups (dairy, vegetable, bread).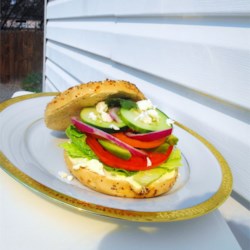 Bon Apetit!
Submitted by admin on September 1, 2009 - 5:00 pm
(Just for giggles).
What Happens When You Have…
1) Nothing to do
2) A sharp knife
3) A large lime
4) A patient cat
5)) And it's football season?
You Get a Feline Football Player!*
*Please note: No Animals Were Harmed in the Posting of this Blog.
Submitted by admin on August 31, 2009 - 10:30 am
Sometimes I lie awake at night, and I ask, 'Where have I gone wrong?' Then a voice says to me, 'This is going to take more than one night.' Charlie Brown
Don't we all ask ourselves that at one time or another? I certainly have. The trick is not to dwell on our mistakes, rather to forge ahead with new resolve.
With that, I wish you all an amazing week!
Ana
Submitted by admin on - 5:20 am
To anyone new like myself, I justed wanted to give my opinion on a couple of Ana's videos. First off, I love having her as my instructor even thought it's in my living room. The pace in easy pilates was perfect. That DVD really helped to get me going in the morning, and a nice relaxing state of mind after work.
I just did my first workout to the Cardio DVD. Some of the positions were tough and man do you need a solid core to make it through the workout. WOW did this session kick my butt! I loved it, Ana really picks up the pace and takes it to a whole new level of pilates. It may be basic for someone more experienced, but it was a smooth transition for me.
The Cardio segment was awesome. What a great way to get going without killing yourself! Once I got the steps down I was having so much fun, and Ana's little side comments keep it fun and enjoyable.
Being that I really enjoy martial arts, I found it easy to include some of my own steps to combine the workouts. Fantastic DVD, great time, highly recommended!
Submitted by admin on August 28, 2009 - 1:00 pm
Have you heard of The GreaterGood Store? It's a site that sells products that fund charities and organization. You can find tons of cute gifts here that give back to the following causes:
* Hunger
* Breast Cancer
* Animal Rescue
* Child Health
* Literacy
* Rainforest
Visit the site by clicking here.
Submitted by admin on August 27, 2009 - 1:00 pm
I found this inspirational necklace on The Breast Cancer Site. It praises the beautiful messages, "Hope," "Faith," and "Love."
Enter to win this meaningful charmer by entering a comment below.
Submitted by admin on August 26, 2009 - 1:00 pm
On the go and need a quick healthy fix? This is a great product for busy bodies always on the run.
* 2x the antioxidants of blueberries
* Rich in heart healthy omegas 3-6-9, fiber and protein
* Perfect for making traditional Brazilian Açaí bowls and smoothies
* Sugar-free option for those sensitive to sugar
Submitted by admin on August 25, 2009 - 1:00 pm
We can do whatever we put our minds to, as long as we believe we can. It's the positive energy that pushes us one step closer to reaching our goals. This song says is best… Enjoy the lyrics and video!
There can be miracles
When you believe
Though hope is frail
Its hard to kill
Who knows what miracles
You can achieve
When you believe somehow you will
You will when you believe
Submitted by admin on August 24, 2009 - 12:30 pm
Press any key to continue, where's the any key?
– Homer Simpson
I just had to put this quote on La Buena Life this week. (I certainly feel like this some days. But luckily not everyday, like Homer). I hope that this quote brings a smile to your face, as you being this week.
Ana
Submitted by admin on August 21, 2009 - 5:06 pm
As my mission to do fitness tracking and be up-to-date with the latest workouts, here's one experience you've never seen before! Just watch the video and you'll see what I mean…
Click here for more about Pineapple Fitness and how to find one near you.
Submitted by admin on August 20, 2009 - 1:00 pm
Have you seen Brazilian exercise clothing? It takes workout fashion to the next level – and I finally found a local store that sells several styles from these brands. Today's giveaway is a _ dollar gift certificate from SanDiegoFit.com.
If you want to look cute while you're getting fit, comment below for your chance to win.
Submitted by admin on August 19, 2009 - 1:00 pm
Looking for the perfect healthy summer treat? Luna and Larry's Coconut Bliss Frozen dessert has the following benefits:
*Soy, Dairy and Gluten Free
*Certified Fair Trade Ingredients
*Agave Sweetened
*Low Glycemic
*Vegan
Click here for more information on The Evolution of Ice Cream.
Submitted by admin on August 18, 2009 - 1:00 pm
Don't we live in a wonderful world? Don't forget to smell the "red roses" and appreciate the "skies of blue" and "bright blessed days."
Have a beautiful day everyone!!!
Submitted by admin on August 17, 2009 - 11:30 am
I catnap now and then, but I think while I nap, so it's not a waste of time.
Martha Stewart
I never thought that Martha and I had much in common, however I would have to agree that my mind never seems to stop working, either. Anyway, I am happy to say that you can catch me on the Living Today Radio Show on Martha Stewart Radio, TODAY! Check it out at 1:00PM EST on Sirius Satellite Radio 112 . Don't have Sirius? No worries. Sign up for a Free 3-Day Trial at http://www.sirius.com/freetrial/register.
Submitted by admin on August 14, 2009 - 1:00 pm
Here's my interview with CJ. If you missed the first half of her story, please refer to yesterday's blog.
CJ supports the WeSpark Cancer Center, a free of charge service that provides a place to meet friends and ways to cope with the loss of cancer victims.
Submitted by admin on August 13, 2009 - 1:00 pm
Hi friends,
On June 11, 2009, an unfamiliar La Buena Life member added a blog post to my site:
"I'm learning to knit. I took a class last week and made a scarf and now I'm making two more scarves. It's really fun. Knitting looks so good. The weave is so nice and tight, it's really satisfying. When my mom died she left behind a lot of yarn and knitting needles and I couldn't stand to give them away. I decided that I would learn to knit and use her yarn to make scarves for everyone in the family which is exactly what I'm doing. I've kind of mastered this basic stitch and am really eager to learn more stitches. I want to make hats and socks and sweaters. For now I have to stick to scarves because that's the only stitch I know".
I was absolutely intrigued by CJ's story and honesty. CJ recently purchased the domain knititation.com. She has not yet launched it but hopes to use the site to help others use knitting to work through their grief. To kick off her efforts, I'm giving away a knitting kit today for those of you who'd like to get a head start. The color are (from left to right) very berry, cool mint, passion fruit and rainbow sherbet. To enter to win, comment below and let me know which color you'd like.
CJ is a member on La Buena Life so feel free to contact her. Also, she will be featured tomorrow on my Fabuloso Friday blog… stay tuned to watch the exclusive interview!
Submitted by admin on August 12, 2009 - 1:00 pm
A Quick and Easy Fresh and Fig Salad, watch the video:
Amelia Winslow's Recipe:
1 pint fresh figs (if you can find a mixture of green & black figs, all the better)
1 handful of fresh basil leaves, gently torn
2 oz soft goat cheese, crumbled with your fingers
2 slices prosciutto, sliced into ribbons
Generous drizzle of good quality balsamic vinegar
Cut the stems off the figs, slice them in half, and place them on a medium-sized
platter. Sprinkle the basil & goat cheese over the figs, then add the prosciutto ribbons
and drizzle the whole thing with balsamic vinegar.
Note: If you don't want to buy expensive balsamic vinegar, you can create your own
balsamic syrup with the cheap stuff. Simply bring 1 cup vinegar to a gentle boil and
let it cook until it has reduced to ½ a cup of liquid. Let cool and this is your syrup!
Just make sure not to forget about it on the stove, it will burn & adhere to the bottom
of the pan easily.
Submitted by admin on August 11, 2009 - 1:00 pm
You gotta love James Brown for this one! Have you heard of positive reinforcement and affirming how you feel? Wake up in the morning, look in the mirror and give yourself the "I feel good" treatment. It really works 🙂
Now leave the moves to Mr. Brown….
Submitted by admin on August 10, 2009 - 4:07 pm
We should never permit ourselves to do anything that we are not willing to see our children do.
– Brigham Young
Tomorrow I head off to the east coast, to visit my friends and family. I am particularly excited to introduce my son to the places that I used to go to as a child. My folks, brother, sister-in-law and my nephew will all be at the house that I grew up in. We plan to go to the parks, pools and playgrounds that my brother and I used to go to as children. I honestly can't wait to watch my son explore those places for the first time. I love that I am allowed to relive my childhood though my son. (If you know me at all you know that I am a kid at heart).
Have a fabulous week!
Ana
« Newer Posts
—
Older Posts »