Submitted by admin on July 9, 2009 - 6:34 pm
Hey guys!
Check out these super cute Lola Bands! I'm giving one away today so please click here to see all the styles and leave a comment below of which one you'd like to win.
Submitted by admin on July 8, 2009 - 7:29 pm
Fiesta Chopped Salad
4 cups chopped Romaine lettuce
1 cup corn kernels (either fresh, frozen that you've cooked, or canned you've rinsed)
1 red bell pepper, chopped
1 cup chopped jicama (a large root vegetable)
1 cup black beans (drained and rinsed, if using canned)
1/3 cup crumbled Cotija cheese (mild Mexican cheese, similar to Feta)
½ cup fresh Cilantro, roughly chopped
1/3 cup Salsa Verde
Juice of ½ a lime
2 tbsp extra virgin olive oil
1-2 cooked boneless skinless chicken breasts, sliced (optional)
Lay romaine lettuce on a platter in a thin layer. Working across the platter, place
other vegetables, beans, and chicken in piles or strips so that you end up with a
beautiful array of colors over the lettuce. Sprinkle the Cotija cheese over the top.
In a small bowl or pitcher mix together the salsa, lime, and oil. Pour this mixture
over the salad and toss just before serving.
Note: you can easily make this salad vegetarian by replacing the chicken with
avocado or simply omitting the chicken.
Submitted by admin on - 3:43 am
My first hat/knitting in the round project. Looks like a hat. I'd say that's not too bad. Not too bad at all.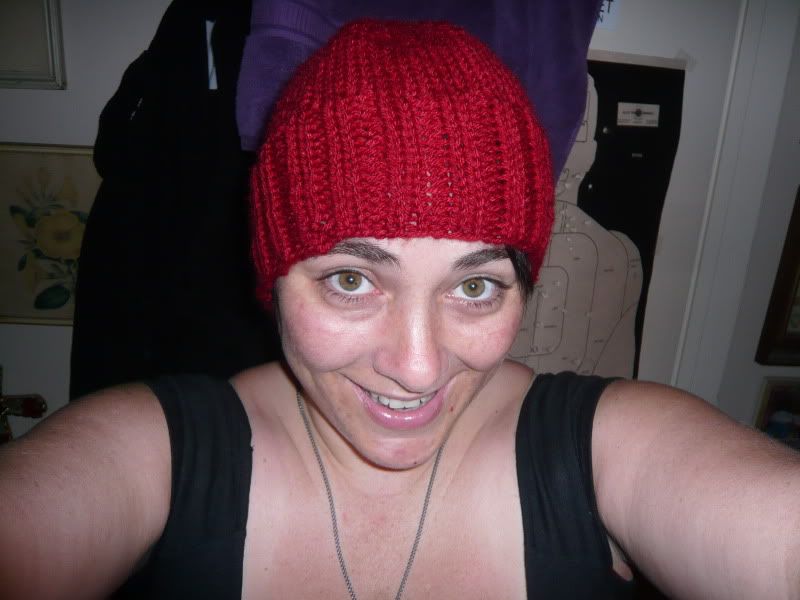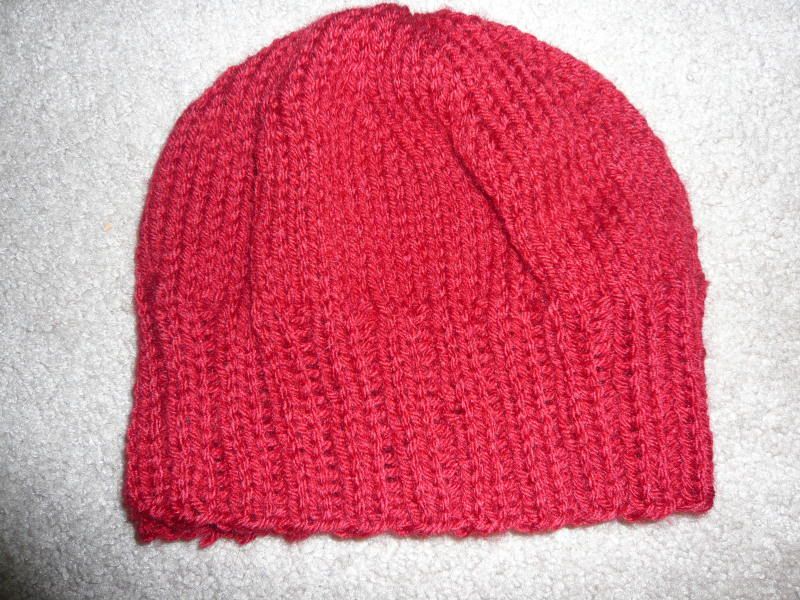 Submitted by admin on July 7, 2009 - 7:17 am
Hi Friends!
I hope that you are all doing and feeling great! I am very excited about working on my lifestyle TV show idea and need your help… Please take a couple of minutes to answer the following 3 questions. I'd greatly appreciate it!!!
1. What are 3 words to describe Ana?
2. How does she inspire you?
3. If Ana Caban had a T.V. show, would you watch it and why?
Thanks,
AC
Submitted by admin on July 6, 2009 - 10:30 am
You do not get to choose how you are going to die or when.
You can only decide how you are going to live. NOW.
–Joan Baez, American Folksinger
I couldn't have said it better, myself. This is our opportunity. What are we waiting for? No one else can live our life for us, so let's make the most of it! For the past month I have been working with certified Dream Coach®, Francine Allaire. With her guidance I am daring to dream bigger than ever! I am setting goals and going for them. I feel that I have the power to achieve whatever I put my mind to. Not only that, the people who can assist me and support me in my endeavors seem to be showing up at my doorstep. It's amazing! (And thank all of you who are. I like to call you my Dream Team).
Francine is helping me and many other women through her community, The Daring. To learn more about Dream Coaching® and daring to dream, bigger than ever please visit www.TheDaring.com.
Submitted by admin on July 3, 2009 - 3:00 pm
I met and interviewed the genius Mom, Adrienne Alitowski, creator of Blankyclip®. Watch the interview!
For more information about Blankyclip®, click here.
Submitted by admin on July 2, 2009 - 10:00 am
It's all about the kids! The Shaklee Company has a great selection of healthy, natural products and today I'm giving away the Shakleebaby™ Soothing Lotion. It has the following benefits:
* 99% natural
* 87% certified organic ingredients
* Pediatrician Tested
* Organic aloe, shea butter, sunflower seed oil, and coconut oil to replenish skin nutrients
* Organic lavendar, chamomile, rosemary and vanilla oils to calm and relax
* Sensitivity tested
* Hypoallergenic
* No parabens or SLS
* No artificial color or fragrance
* No 1,4-dioxane or formaldehyde
If you have kids, or know someone who does – comment below to win the Shakleebaby™ Soothing Lotion.
For more on Shaklee, click here.
Submitted by admin on July 1, 2009 - 2:00 pm
Spice up your summer lunch with a nice, fresh pear & walnut salad. Click here for the recipe.
Submitted by admin on June 30, 2009 - 1:00 pm
Is there anyone in the world since the 70s that didn't recognize the name Michael Jackson? The answer is NO WAY! Michael Jackson was named the King of Pop and transcended genders, race, and generations all over the world. He has greatly impacted the music we listen to today and the timeless hits that we turn to that mark every part of our lives. We had to say fairwell to him on Friday, June 25, 2009. After 50 years of living, and 40 years of sharing his music with us that we all laughed, danced, cried, dedicated and sang along to. I pray for his family and fans who mourn his death, R.I.P. Michael Jackson. Life was more beautiful with you in it!
Submitted by admin on June 29, 2009 - 10:30 am
Kindness is always fashionable.
– Amelia E. Barr
Lately I have been feeling really fortunate, loved and blessed. This, in turn, has made me want to be even kinder to others, to share important stories, to help others, to do what I can. I have found that it doesn't matter whether the task big great or small. Whatever I do, out of true kindness, is appreciated and without even wanting anything in return I am always rewarded in some way.
So, this week I ask you to consider performing random acts of kindness. Do so selflessly and enjoy the way it makes you feel. Remember that kindness is always fashionable.
Submitted by admin on June 26, 2009 - 8:33 pm
I was able to get an exclusive interview with Tim VandeSteeg about his latest movie, My Run. I attended the Special Screening and it is on my top list of inspirational movies. It was great! Watch the interview below!
For more information about My Run, click here.
For more on Tim VandeSteeg, click here.
Submitted by admin on June 25, 2009 - 4:30 pm
MY RUN, the Terry Hitchcock Movie is an inspirational documentary about how he tragically lost his wife to breast cancer and struggled to raise three young children on his own. Terry Hitchcock seized on an idea of wanting to accomplish the impossible: run 75 consecutive marathons in 75 consecutive days to bring attention to the incredibly difficult lives of single-parent families. Click here for more information.
In honor of inspirational movies, I'm giving away a Fandango Gift Certificate so that you can go to any theatre near you and watch a motivational film that may make a difference in your life.
To enter to win, please add a comment below with your favorite inspirational movie.
Submitted by admin on June 24, 2009 - 5:00 pm

Need to whip up a quick and easy gourmet dish? Here's a recipe that takes 20 minutes and tastes like you were in the kitchen for hours! Click here.
Submitted by admin on June 23, 2009 - 4:00 pm
I'm a BIG fan of John Cruz and got the chance to see him perform last night at Trader Vic's in LA. John is a Grammy Award winning Hawaiian musician with a calm and pleasant island-sound. See the interview and performance below.
For John's latest CD, One of These Days, or other products (flying shirts and 80's sweat bands), click here.
Submitted by admin on June 22, 2009 - 10:30 am
Doing nothing is very hard to do…you never know when you're finished.
— Leslie Nielsen
It's Monday and back to work. And I have to admit that I tried to do nothing this weekend, but feel as though I was actually busier than ever. Go figure! I hope that everyone had a great weekend, especially you fathers out there. Happy Father's Day!
Here's to a fantastic and productive week!
Ana
Submitted by admin on June 20, 2009 - 1:00 am
Want a sweeter taste of life? Peter Crone, "the happiness Guru" has the answers you need to achieve your dreams. See my interview with him below.
Lean more about Peter Crone by visiting, BeAlive.com
Here's a little added bonus…
Meeting Peter I learned that he likes to do Pilates and LOVES to play golf (he even has a golf course on his front lawn!). So in honor of Peter, I've included some "Golf and Pilates" information on how Pilates can imrove Golfing techniques.
According to the latest research, the 25 million golfers in the US have the following characteristics:
• 60% have difficulties physically making the proper body movement that will allow a mechanically correct swing
• The remaining 40% of this group that already possess the physical ability, would be interested in gaining more yards, more control and more endurance
Pilates can help you hit the ball consistently farther and straighter with reduced risk of injury and back pain. Pilates programs can be tailored to target the biomechanics of the golf swing, emphasizing golf-specific exercises in the Pilates technique.
Golfers can take the Pilates techniques out onto the course, implementing them in all aspects of the game from teeing off to walking! Combining the six fundamental principles of Pilates with natural movements enhance ease of motion through the balancing of strength, flexibility and increasing endurance.
Submitted by admin on June 18, 2009 - 4:30 pm
It's Tentación Thursday, and I have a great product for you!
The Green Garmento™ is the ultimate 3-in-1 reusable drycleaning bag.
Now you can finally say no to single-use plastic drycleaning bags. The Green Garmento is an eco-friendly 3-in-1 reusable garment bag that can help you green your dry-cleaning routine. At home it serves as a hanging hamper, on your trip to the drycleaner, it functions as a duffel bag, and at pick-up, your drycleaned clothes will be hanging and protected inside your Green Garmento for the trip home.
The simple step of switching to The Green Garmento will help to reduce the estimated 300 million pounds of single-use drycleaning bags that continue annually to clog our landfills and kill our marine and wildlife.
The Green Garmento is made from breathable, water-resistant material, making it an eco-friendly, stylish, practical, and affordable alternative to single-use plastic drycleaning bags.
Leave your comments below to enter to win, (THE WINNER WILL RECEIVE 2 GREEN GARMENTOS, one for your home, and one for the dry cleaner).
"Be Fantastic…Use Less Plastic." Switch to The Green Garmento.™ thegreengarmento.com
Submitted by admin on - 4:00 am
I ran across these the other day at my local natural food market and I tried the cherry pie, it was delicious! As you all know by now, I LOVE desserts but am off sugar, so these really satisfied my sweet cravings.
They are:
*Natural Baked Goods
*No Sugar Added
*No Preservatives
*Naturally Sweetened
*Cane Sugar Free
For more about Fabe's and where you can find them, click here.
Submitted by admin on June 16, 2009 - 6:00 pm
Hi friends,
I'd like to tell you about one of our fellow La Buena Life members, the beautiful and multitalented, Vanessa Diaz. I discovered her after she became a member and began to follow her because of her innovative approach to raising green awareness. She is the founder of Moxie Industries, an animal-friendly, eco-conscious company that produces and distributes fashion, music and art. She explains, "I love the beauty in creative expression. Fashion, music and art are three forms in which I express myself and am touched by others doing so." Vanessa is also currently working on her album (in both English and Spanish) and furthering the goals her company, "we're planning to build Moxie Industries into an international brand promoting environmental awareness and entertainment…we all have the freedom of choice to do our part in loving our world, and if you listen to your heart you will know what to do. I listened: here I am."
I posted her song, Home, on the main page so make sure to check it out (it's on the left sidebar).
To learn more and shop with Moxie Industries, click here.
Submitted by admin on June 15, 2009 - 10:30 am
A real friend is one who walks in when the rest of the world walks out.
– Walter Winchell
Last week, in my newsletter, I talked about spring cleaning and how that can pertain to your relationships, as well as your home. Basically, removing any type of clutter from your life, moves your "chi" (energy) creating room in your life for more of whatever it is you desire. I agree with the quote, above. And I ask you to assess who your real friends are, acknowledge them, give them gratitude, and assess which relationships may no longer serve you.
Make room for more positive things in your life!
Have a great week!
Ana
« Newer Posts
—
Older Posts »