Submitted by admin on June 16, 2009 - 6:00 pm
Hi friends,
I'd like to tell you about one of our fellow La Buena Life members, the beautiful and multitalented, Vanessa Diaz. I discovered her after she became a member and began to follow her because of her innovative approach to raising green awareness. She is the founder of Moxie Industries, an animal-friendly, eco-conscious company that produces and distributes fashion, music and art. She explains, "I love the beauty in creative expression. Fashion, music and art are three forms in which I express myself and am touched by others doing so." Vanessa is also currently working on her album (in both English and Spanish) and furthering the goals her company, "we're planning to build Moxie Industries into an international brand promoting environmental awareness and entertainment…we all have the freedom of choice to do our part in loving our world, and if you listen to your heart you will know what to do. I listened: here I am."
I posted her song, Home, on the main page so make sure to check it out (it's on the left sidebar).
To learn more and shop with Moxie Industries, click here.
Submitted by admin on June 15, 2009 - 10:30 am
A real friend is one who walks in when the rest of the world walks out.
– Walter Winchell
Last week, in my newsletter, I talked about spring cleaning and how that can pertain to your relationships, as well as your home. Basically, removing any type of clutter from your life, moves your "chi" (energy) creating room in your life for more of whatever it is you desire. I agree with the quote, above. And I ask you to assess who your real friends are, acknowledge them, give them gratitude, and assess which relationships may no longer serve you.
Make room for more positive things in your life!
Have a great week!
Ana
Submitted by admin on June 14, 2009 - 11:37 pm
Blush – Topless Undershirt This week I am featuring the Blush Topless Undershirt. It may look like a little skirt, but it's actually a very novel accessory. Ever have a shirt that you love, but that has shrunk in the wash, so it's just not long enough? Are you pregnant and finding that your non-maternity clothes are so much hipper than your maternity clothes, but your tops are no longer covering your baby bump? You need the Topless Undershirt! The Topless Undershirt can brighten up any old outfit, with a splash of color or a fun pattern. It can disguise your problem areas, or cover your belly and back, while nursing. It has so many uses.
To learn more about the Blush Topless Undershirt Click Here. And for your chance to win your own Topless Undershirt leave a comment below.

Submitted by admin on June 13, 2009 - 4:31 am
The more I practice knitting the more I am starting to learn that I can come up with m own patterns and creations as I did with this scarf. I made a loop at the end to draw the scarf through. That way it won't come loose and slide off your shoulder. It looks great hanging down the center as well as off to the side, hanging from your shoulder.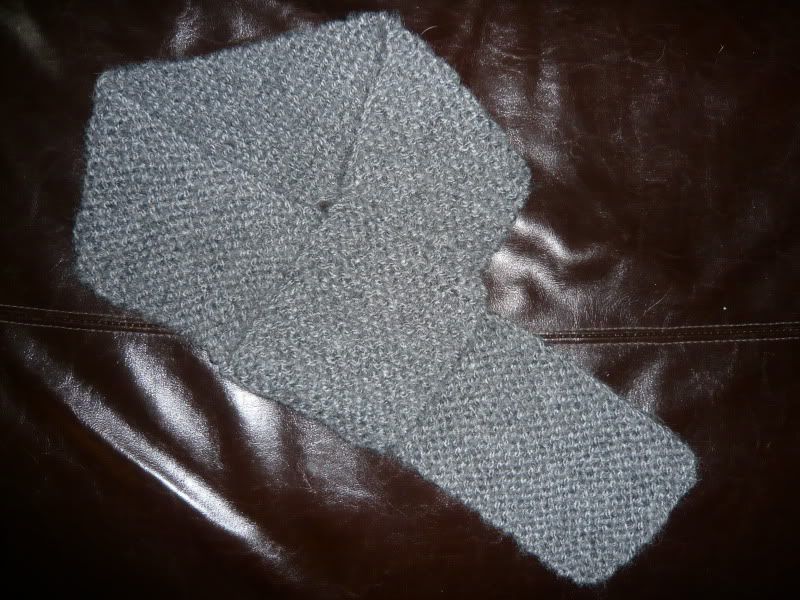 Submitted by admin on June 12, 2009 - 9:22 pm
I stumbled upon this program as I was searching the net and wanted to share it with you. For those of you who have kids that are looking into being musicians or already are, this is an amazing program to apply to:
"Children's Music Workshop is an Emmy award winning music education company which specializes in a variety of products and services including custom designed band and orchestra method books, school site music instruction, instrument sales and rentals, music education advocacy and more.
Children's Music Workshop currently coordinates instrumental music programs at more than two dozen public and private schools in the greater Los Angeles area", (read more)
Submitted by admin on June 10, 2009 - 10:00 am
This is a great lunch meal. I had it a few days ago and the brown rice is high in fibers so it kept me full throughout the day.
Ingredients
* 2 tablespoons miso (soybean paste)
* 1 1/2 tablespoons minced peeled fresh ginger
* 2 garlic cloves, minced
* 4 (4-ounce) skinned, boned chicken breast halves
* Cooking spray
* 5 large egg whites, lightly beaten
* 1 cup finely chopped onion
* 1 cup thinly sliced carrot
* 1 tablespoon fish sauce
* 2 1/2 cups cooked brown rice
* 1 cup diced shiitake mushroom caps (about 3 ounces)
* 2 tablespoons chopped fresh parsley
* 2 tablespoons chopped green onions
* 1 tablespoon low-sodium soy sauce
* 1 1/2 cups chopped spinach
Preparation: click here
Submitted by admin on June 9, 2009 - 10:30 am
Ok, ok, I know. I was just feeling a little 80's today. I don't know what it is about 80's music, but it transports me back to a simpler time in my life, a time full of spiky Sun-In bleached hair, rubber bracelets, jellies (those are shoes, (in case you are too young to know), skinny striped pants and more. Today I woke up in a retro mood.
Enjoy Keep Feeling Fascination on the LBL music player (on the main page)!
Submitted by admin on June 8, 2009 - 7:00 am
The greatest wealth is health.
– Virgil
As you all know, I have been off of refined sugar for over a month now (through my Sugar-Free Challenge). What started as a simple test to see if I could trim down a bit and fit into my old (favorite) jeans has turned into a real examination of my eating habits and my overall health. (Our health is so important. And oftentimes we don't even think about it until it becomes a concern, until we are ill). In doing my Sugar-Free Challenge I have become very aware of:
1). just how much sugar is in everything we buy
2). just how much I liked refined sugar
3). just how badly it would make me feel
Now I can clearly see how refined sugar affected me. Often after eating sugar my temperature would suddenly rise. I would actually feel hot. Also, when I ate refined sugar I would have an instant burst of energy, and then 45 minutes later i would crash and burn. and if I ate a dessert in the evening, I would have a hard time getting up the following day (somewhat like a "sugar hangover", I suppose). Not to mention that my skin seemed to suffer if I ate to much refined sugar.
Now that I have cleared my palate of the taste of sweets, I no longer crave them. Of course, if I do, in fact, want a sweet I make sure that it's fresh fruit or a snack made with unrefined sugar, such as honey, agave nectar, evaporated cane juice, etc. (And trust me, there are sweets available out there that are yummy and are made with the aforementioned sweeteners) .I am feeling so much better not eating refined sugar that I don't really worry about "falling off the wagon". I now have my health, my greatest wealth.
Submitted by admin on June 5, 2009 - 5:00 pm
Last week I did a giveaway with Khuraira's products: lipstick and lip gloss.
While researching the product I discovered that the founder of the company, Khuraira, has a fascinating life story.
She lost her mother and was orphaned at birth in a small town in Nigeria. She was later found and rescued by her aunt and sent to a local school. "From the proceeds of cow milk and yogurt she peddled door to door in a calabash, she managed to raise Khuraira and to instill in her genuine human values of honesty, humility and selflessness." She established KHURAIRA ORPHANS FUND, which benefits from a percentage of the proceeds from the sales of her products, read the full story
I like sharing these stories with you all because I truly believe that everything is possible as long as you know it is and act upon it everyday of your life. Life is a precious and short journey, and knowing that we made a difference, inspired one extra person, or simply shared a valuable piece of information to someone who needed it, is fulfilling in itself.
I hope you all have a good Friday, and wonderful weekend!
Submitted by admin on - 3:00 am


Find more videos like this on La Buena Life
These ECOBAGS are so cool. They are small enough to keep anywhere. (There's no excuse for not BYOB). I love that they are 100% certified organic, come in a couple of styles and an array of colors. Since they are so airy they're a great place to put your stinky workout clothes, too. The coolest things about them is that they can hold 40 (Yes, FORTY) pounds each! THAT'S AMAZING!!!
Comment below to win & Click here for more on ECOBAGS. Enter promo code "EBS09" at checkout and receive 15% off your web order!
Thanks!
Submitted by admin on June 3, 2009 - 10:30 am
Man do I love me some Chocolate Fondue! Here's a sinless recipe you can make in less than 10 minutes. I found it on About.com and made it this weekend. It was delicious!!!
Ingredients:
* 2/3 cup dry unsweetened Dutch cocoa powder
* 1/4 teaspoon ground cinnamon
* 1/4 teaspoon kosher salt
* 1 cup milk
* 1/2 teaspoon vanilla extract
* 1/2 cup agave nectar
Preparation:
Place cocoa powder, cinnamon, salt, and milk in a blender. Pulse until combined. Pour mixture into a heavy saucepan and bring to a boil. Lower heat and simmer for 5 minutes, stirring often, until thickened. Remove from heat and let cool for 5 minutes, stirring occasionally. Whisk in sugar substitute (agave nectar) and vanilla, stirring until dissolved and smooth.
Pour into a fondue pot to keep warm and serve with fruit slices as dippers.
Yield: 8 servings (1/4 cup each)
Submitted by admin on June 2, 2009 - 7:27 pm


Original Video – More videos at TinyPic
Submitted by admin on June 1, 2009 - 3:26 pm
A day without laughter is a day wasted.
– Charlie Chaplin
The other night I was out with a bunch of moms and one of them was mentioned that her daughter was at her first sleepover. I was immediately reminded of being 5 years old and sleeping over at by best friend, Anila's, house. Anila lived right around the corner from me. In fact, I could see her house from mine, (still can when I am visiting my parents). We were in kindergarten and we were inseparable. I don't know what we talked about but we just giggled and giggled. I distinctly remember sleeping over at her house, in the middle of summer, when that Massachusetts humidity just hung in the air. (They must have not had air conditioning because all I remember was lying in bed, trying to fall asleep, giggling and sweating). Anila's mother would peek her head in and tell us to settle down and go to sleep. Each time we would say "OK. We are going to sleep" and, inevitably, the giggling would start up again. The funniest thing is that, to this day, when I am trying to fall asleep anywhere really hot and sticky I still remember those days and what my mother would tell me about how to stay cool. She would say "Lie very, very still. Don't move a muscle, not even a finger, and you will stay cool". Anila and I would lie like mummies trying to stay cool, and each time the giggling would ensue (because the whole thing seemed so silly). Laughter is awesome! These memories still make me smile. And I know, for a fact, that Anila still giggles reminiscing about our silly times together at age 5.
Submitted by admin on May 29, 2009 - 10:00 am
From friends to the news…don't you feel like everyone is talking about Twitter?
Being the internet savvy gal that I am, my husband's always asking me "how did you figure that out?"
Well… the answer is Bill Crosby. Not only is he an internet and media genious, but he's also helping people make thousands of dollars.
I would love to explain further, but it's best if you see it yourself. Click here.
Submitted by admin on May 28, 2009 - 8:00 pm
This week's giveaway are two products to help you look flawless. They are Khuraira Lady Obama Lipstick & Luscious Lips Lip Gloss in Femme Fatale. Join celebrity clients Mandy Moore, Paula Abdul, Cher and more, as believers in Khuraira's products. Nigerian born Khuraira founded her makeup line & original New Jersey boutique to teach every woman to use every ounce of their makeup properly. Her makeup line, especially her anti-aging makeup enriched with peptides, aloe vera and antioxidants (makeup as skin care) are possibly some of the most advanced in the beauty industry. They have been carefully studied for many years to fill a need in customers that most leading makeup brands have failed to.
The Special Edition Lady Obama Lipstick is the perfect color for all women. It is great for any lifestyle. Sure to unleash the first lady in you. PLUS 20% of all proceeds to benefit the Breast Cancer Network of Strength.
Luscious Lips in Femme fatale creates plump, sexy, and colorful lips. Helps to eliminate the appearance of dryness. Can be worn alone or over lip liner or lipstick.
Click Here to learn more about, or purchase Khuraira products. Remember that 1 (one) lucky LBL member will win the Khuraira Lady Obama Lipstick & Femme Fatale Luscious Lips Lip Gloss. Enter your comment below, for your chance to win.
Submitted by admin on May 27, 2009 - 2:00 pm
We are all getting ready for our summer bods so I found an appetizer/snack that's easy to prepare, tasty and perfect for those beach body diets. This non-starchy veggie dish will help you on your quest as it's high-in-fiber and filled with nutrients. If you don't like any of the veggies, you can also use asparagus, peppers, broccoli, leafy greens, spaghetti squash, mushrooms, and okra.
Calories: 83
Ingredients:
* 2 red onions, peeled (about 1 pound)
* 4 teaspoons olive oil, divided
* 1/4 teaspoon salt
* 1/4 teaspoon black pepper
* 2 sprigs fresh thyme
* 1 tablespoon chopped fresh dill
* 3 tablespoons Champagne vinegar or white wine vinegar
* 1 tablespoon stone-ground mustard
* 2 pounds green beans, trimmed, steamed, and chilled
Preparation time: 30mins
For instructions, click here.
Submitted by admin on May 26, 2009 - 10:30 am
ANYTHING IS POSSIBLE! This weekend I watched a movie about a remarkable man, Philipe Petit. It was no wonder that Man On Wire won Best Documentary feature this year. Man on Wire is a look at tightrope walker Philippe Petit's daring, but illegal, high-wire routine performed between New York City's World Trade Center's twin towers in 1974, what some consider, "the artistic crime of the century." The New York Times called it "Entralling", The Wall street Journal "Magnificent". The feat seemed impossible, but yet Petit did it! I particularly enjoyed Man on Wire because I recognized the control and grace with which Petit walked the wire. It reminded me of the control and strength needed to do Pilates.
If you want to be inspired to achieve ANYTHING, I highly recommend that you watch this film.
Submitted by admin on May 24, 2009 - 10:30 am
Joy is the feeling of grinning inside.
– Melba Colgrove
Joy is finding your passion, creating the life that you've always dreamed of and living it on your own terms. I feel very fortunate to be living the life of my dreams, a life full of creativity, friends, family & service to others-a life of purpose. I hope that each and everyone of you is, also, iiving the life of your dreams.
Last Friday I begin the Dream Coach® process with coach, Francine Allaire. Our first session mostly involved covering how the Dream Coach® process works and how future sessions would go, but had already gotten me excited about the Dream Coach® process. I decided to work with Francine, creator of The Daring (a Global Community for Women Who DARE to Dream Big, Take Control of Your Finances & Life and Soar to New Levels of Joy & Success) because although I enjoy what I do there is so much more that I would like to achieve and I believe that working with a coach will help me find clarity, accountability and perhaps a little guidance. As I mentioned, my first session was yesterday, and I already have homework. It's fun for me to be involved in a program like this, that really has me taking stock of all that I have and all that I dream to have. For me, the exercises that I must do, in between Francine and my sessions, seem like fun. They will force me to be very creative and dream even bigger than I already am. I look forward to sharing my experiences with Dream Coaching® along the way.
For anyone of you that is interested in living YOUR LIFE with even MORE PURPOSE, living YOUR LIFE on YOUR TERMS I highly recommend that you visit Francine's community, The Daring. Her community and programs will inspire you to dream and live your life to the fullest!!! 🙂 To visit The Daring please Click Here.

Submitted by admin on May 22, 2009 - 2:00 pm
I kept seeing a nice pair of red heels in a glass box around local shops in my neighborhood. At first glance I was checking out the shoes, until I saw the flyer posted next to it that read "Can You Walk a Mile in Her Shoes?" I found this to be such an eye catching statement. These few words got me to research it online and sure enough – I found that it was also an eye catching organization. Men around the world walk in heels to raise money and awareness to sexualized violence victims. Walk a Mile in Her Shoes is the "International Men's March to Stop Rape, Sexual Assault and Gender Violence. The Men's March started out small and has grown each year since, with larger crowds attending each March and Marches held in multiple locations benefiting multiple rape crisis centers."
To find out more, click here.
Submitted by admin on May 21, 2009 - 10:30 am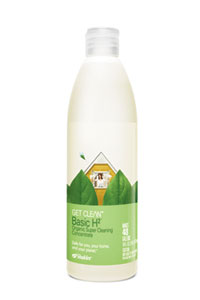 LBL member Linda Meccouri has donated this weeks Tentación Thursday giveaway. It's the Shaklee Basic H2™ Organic Super Cleaning Concentrate. As most of you know, I sample all of the giveaway products before I recommend them and give one away each week. For the past 3 weeks I have been using Shaklee (and only Shaklee) cleaning products, in order to test their effectiveness. I have used products to wash clothes, dishes, clean countertops, mirrors, floors and more. The result is that the Shaklee Organic products that I have tried are AMAZING! For the most part they are highly concentrated, so just a drop or two often does the trick. The first time I ran the dish washer using my Shaklee Get Clean™ Dish Wash concentrate my kitchen looked like a scene out of a Brady Bunch episode (complete with suds oozing out of the dishwasher). The good news is that since Shaklee products are highly concentrated you will only need to use a little each time, and you will find that the bottle lasts for far longer than your typical cleaning product.
This week's giveaway, Basic H2™ Organic Super Cleaning Concentrate– 16-ounce bottle, has an incredible powerful formula. Basic H2, when used as directed, decimates grease, grime, and dirt 1,000 different ways. Superconcentrated and earth friendly it can be used indoors or out on any washable surface. Just two ounces of Basic H2 provides the same cleaning power of 728 bottles of the 26 ounce size of Windex® original formula.** Oh, did I fail to mention that it's one of Oprah's Favorite Things?
To purchase your own bottle of Shaklee Basic H2™ Organic Super Cleaning Concentrate, or learn more about Shaklee products Click Here. As always, enter a comment, below, and you may be the ONE (1) lucky LBL member to win their own bottle of Shaklee Basic H2™ Organic Super Cleaning Concentrate. ¡Buena suerte!
« Newer Posts
—
Older Posts »