Tentación Thursday – Your Health!
Submitted by admin on February 4, 2010 - 11:30 am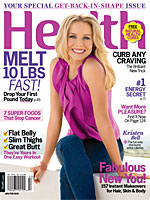 I love Health Magazine! It's full of all kinds of useful info. I always look forward to receiving it. In this month's Issue you can read about: How to Get a Better Nip or Tuck How to Give Your Skin a Winter Wake-up When It's OK to Skip the Doc America's Healthiest Superfoods for Women America's Healthiest Superfood Combos 20 Ways to Get Healthier for Free and more… For more information on Health Magazine Click Here. One lucky LBL member will win a year's subscription to Health Magazine. Leave a comment, below, for your chance to win. (Please respond by 7:00AP PST on Thursday 2/11/10). Buena Suerte!